Used 09 chevy impala LT 97,000 miles clean car $5500 **Call Us Today For... for sale in Waterloo, IA
Vehicle Description

2009 Chevrolet Impala 4dr Sdn 3.5L LT Sedan FWD
Drive it home today. Call (Or Text) us now !!
Call (or text) ☏ (319) 250−2455 Jefferson Street Motors
2021 Jefferson Street, Waterloo, IA 50701

Copy & Paste the URL below
to view more information!
2009 Chevrolet Impala 4dr Sdn 3.5L LT Sedan FWD
Year : 2009
Make : Chevrolet
Model : Impala
Trim : 4dr Sdn 3.5L LT
Mileage : 97,000 miles
Transmission : Automatic
Series : 4dr Sdn 3.5L LT Sedan
Drivetrain : FWD
Condition : Excellent
VIN : 2G1WT57K791267443
Stock ID : 267443
Engine : 3.5L 211.0hp
Call (or text) US AT (319) 250−2455 to get the full list of optional equipment on this vehicle.

Call (or text) (319) 250−2455 / (319) 939−1529 for quick answers to your questions about this Chevrolet Impala 4dr Sdn 3.5L LT.

***** Chevrolet Impala 4dr Sdn 3.5L LT Sedan *****
Drive it home today. Call (Or Text) us now !!
Call (or text) ☏ (319) 250−2455 Jefferson Street Motors
2021 Jefferson Street, Waterloo, IA 50701

Copy & Paste the URL below
to view more information!
2009 09 * Chevrolet Chev Chevy * * Impala * *Cheap 4dr Sdn 3.5L LT * *Like New 2009 4dr Sdn 3.5L LT Sedan* *3.5L 211.0hp* *Must See 2009 Chevrolet Chev Chevy Impala 4dr Sdn 3.5L LT Flex Fuel - 2009 Chevrolet Chev Chevy Impala impala IMPALA 4dr Sdn 3.5L LT Flex Fuel Sedan Cheap - 2009 Chevrolet Chev Chevy Impala ( 4dr Sdn 3.5L LT ) Carfax Flex Fuel 3.5L 211.0hp - 2009 Chevrolet Chev Chevy Impala 4dr Sdn 3.5L LT Sedan 3.5L 211.0hp Flex Fuel - Chevrolet Chev Chevy Impala 4dr Sdn 3.5L LT Sedan *SCHEDULE YOUR TEST DRIVE 2009 Chevrolet Chev Chevy Impala 3.5L 211.0hp 4dr Sdn 3.5L LT Flex Fuel Sedan* * Chevrolet Chev Chevy * * Impala * 2009 Chevrolet Chev Chevy Impala 4dr Sdn 3.5L LT Flex Fuel Sedan *2009 Chevrolet Chev Chevy Impala 4dr Sdn 3.5L LT *Jefferson Street Motors* *Call (or text) us today at (319) 250−2455.* 2010 Chevrolet Chev Chevy Impala 4dr Sdn 3.5L LT 3.5L 211.0hp - Have you seen this 2011 Chevrolet Chev Chevy Impala 4dr Sdn 3.5L LT Sedan ? Must See 2012 Chevrolet Chev Chevy Impala 4dr Sdn 3.5L LT Flex Fuel Sedan *For Sale Impala * * Impala * *Carfax 4dr Sdn 3.5L LT Flex Fuel Sedan Come test drive this amazing * Chevrolet Chev Chevy * * Impala * *( 4DR SDN 3.5L LT )* *Flex Fuel* Sedan 4dr Sdn 3.5L LT Sedan Flex Fuel Sedan Flex Fuel* *( Chevrolet Chev Chevy )* *( Impala )* * 4dr Sdn 3.5L LT * *3.5L 211.0hp* *(FLEX FUEL)* *Bad Credit* *Flex Fuel* *Sedan* *Super Vehicle Flex Fuel Call (or text) this number (319) 250−2455* *3.5L 211.0hp* *Jefferson Street Motors* * Good Credit* 2009 2008 2007 2006 *This vehicle is a used Chevrolet Chev Chevy Impala * *No Credit* *It is like New 4dr Sdn 3.5L LT * *3.5L 211.0hp Flex Fuel*

Vehicle Details
Similar vehicles
2011 Chevy Impala LS grandmas car in Athol, WA
Reduced For sale 2011 Grey Chevy impala. It was grandmas car it has 75000 miles on it. Nonsmoker excellent condition lots of life left on tires. Oil change every 3000 miles. Has a lot of get up and go. Gets about 27 to 33 mpg depending on city or ...
Recently viewed
2011 Chevrolet Impala LT - sedan in Comanche, TX
2011 Chevrolet Impala LT - Summit White ☎ For immediate assistance Call or Text (972) 904-0017 DELIVERY AVAILABLE! Year: 2011 Make: Chevrolet Model: Impala Miles: 56731 Exterior Color: Summit ...
1996 Chevrolet Impala in Lithia Springs, GA
Almost 20 years after it went out of production, the Impala SS is still cool. With perfect specimens trading hands for well over sticker price, they're one of the most stable Chevrolet investments you can make. And if you're just looking for a cle...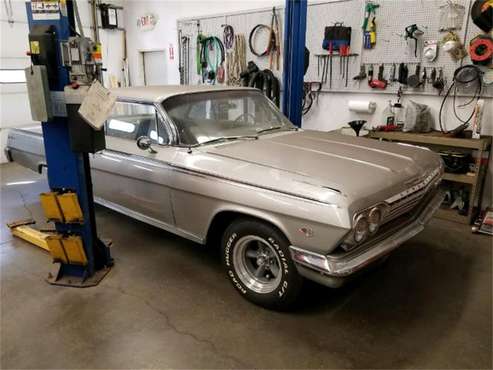 1962 Chevrolet Impala in Cadillac, MI
1962 Chevrolet Impala SS 4 speed, 327, completely redone, nice car! -Vehicle is on consignment and at our clients home -Please Call First and talk to a rep at 231-468-2809 EXT 1 -Showroom is by appointment only Please Call -If you would like a FRE...