Used 1929 Cord L-29 for sale in Saint Louis, MO
Vehicle Description
The Auburn Automobile Company got its start in 1900, building sensible cars of good quality, though never set the world alight with style and flash. By the mid-1920s, Auburn was struggling with weak sales thanks to conservative marketing and a humdrum product offering. In 1924, that all changed when the company enlisted the help of entrepreneur and salesman E.L. Cord to help bail them out of trouble. Cord was brought on as general manager and paid a modest salary with the option of buying control of the firm if he could save them. Auburn faced a glut of unsold inventory that the public viewed as dull. E.L. Cord came up with the simple plan to repaint the unsold cars in bright colors to give the illusion of a fresh new lineup. To the surprise of many, his plan saved the company. Having taken over control of Auburn, E.L. Cord wasted little time in transforming them into a style and value leader in the luxury car market. He soon moved on to realize a dream of building a car worthy of bearing his name. Cord wanted an automobile capable of competing with the likes of Packard and Cadillac, and it was the perfect opportunity to build a car that would fit neatly between the value-leading Auburn, and the spectacularly exotic and expensive Duesenberg. In typical E.L. Cord fashion, he eschewed tradition in favor of a car that was as innovative as it was beautiful. The sleek and low slung L-29 debuted in 1929, featuring revolutionary front wheel drive and a De Dion front axle, designed with input from the engineers responsible for the Miller front-drive Indy Car. The gorgeous Cord L-29 featured flowing front fenders, and a narrow, body-color radiator shell. The low slung appearance was possible thanks to the front-drive layout, which in turn allowed the body to mount over the chassis as opposed to on top. It shared the 301 cubic-inch Lycoming straight eight with Auburn, albeit turned 180-degrees in the chassis, driving through a three-speed transmission at the front. Thanks to the low center of gravity, handling was very impressive. The factory offered the L-29 in four styles: Convertible Sedan, 5-Passenger Brougham, Sedan, and 2/4-Passenger Coupe/Roadster. Coachbuilders over the world over scrambled for a chance to put their mark on the beautiful new Cord, eager to take advantage of the low ride height and gracefully sweeping fenders. Only 5,014 L-29s were built between 1929 and 1932, as the Great Depression took hold and effectively killed the replacement L-30 before it even left the drawing board. Despite its brief existence, the Cord L-29 stands as one of the most beautiful American automobile designs of all time. This stunning 1929 Cord L-29 wears sporty and stylish 2/4 passenger cabriolet coachwork, presented in an arresting two-tone blue livery. At just 58 inches tall, the Cabriolet stood a full 12 inches lower than its nearest competitor and was by far the most sporting body style in the Cord catalog. This example was meticulously restored in the 1990s and has since been refreshed and maintained in near-concours condition. This chassis was originally equipped with 5-passenger Brougham coachwork and is believed to have received this Cabriolet body at the time of its restoration. The presentation is truly exquisite, with its vivid blue main body accented with dark blue feature lines. Accessories include rare Woodlite headlamps, chrome wire wheels with dual side-mount spares, dual taillights, and a trunk rack. It comes to us from a significant collection of Classic Era automobiles and has been shown at several important events, most recently featuring at the Hilton Head Concours d'Elegance, and the 2017 Elegance at Hershey, where it received the coveted People's Choice trophy. One look and it is easy to see why this Cord continues to impress on the concours field. While the restoration has mellowed slightly, the quality of the paint remains exquisite. Fit and alignment of the body are excellent, and the chrome plating and brightwork are impeccable, from the gorgeous wire wheels to the intricately detailed door handles. Complementing the dramatic color scheme is a two-place cockpit trimmed in navy blue leather, with subtle light blue piping. The driver's seat shows only minimal signs of use, while the matching blue leather rumble seat and door panels present in excellent condition. The distinctive dash features restored original instruments and control knobs in a proper textured-finish fascia. Even the screw heads are clocked in perfect alignment with one another, a testament to the level of detail given the restoration. A taut and attractive navy blue canvas roof rounds out the fabulous presentation. Underhood detailing is to a similar standard, showing only light signs of use on the factory-correct finishes. The engine is painted in correct Lycoming green, with black porcelain intake manifold and beautiful chrome hardware. In the interest of drivability, a later style carburetor and electric fuel pump have been added. The engine and undercarriage appear very tidy and clean, looking to have some light wear on the finishes from driving, but overall still extremely well-presented. Few cars of the Classic Era compete with the Cord L-29's breathtaking style. This exquisite example is a proven concours winner, benefitting from years of care in an extensive collection of important pre-war automobiles. With its slightly matured but fastidiously maintained restoration, this L-29 Coupe/Roadster a beautiful car for that is still capable of impressing on the show field, while also being certain to impress on driving events with the CCCA or Auburn Cord Duesenberg Club.
Vehicle Details
Location:
Saint Louis, Missouri
Seller
Hyman Ltd. Classic Cars
Saint Louis, MO 63146
(888) 572-9205
Similar vehicles
1931 Cord L-29 in Saint Louis, MO
Shortly after Errett Lobban Cord rescued the ailing Auburn Automobile Company, he wrested control of the firm and set to work shaping his luxury ca...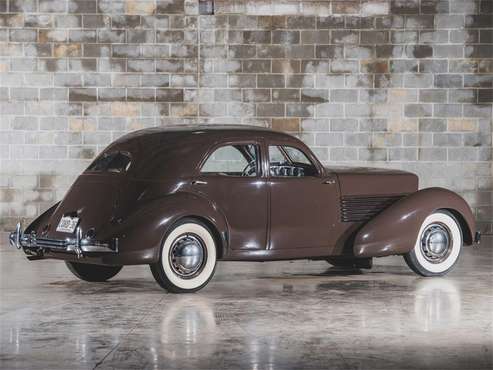 1936 Cord Beverly in St Louis, MO
To Be OFFERED AT AUCTION WITHOUT RESERVE at RM Sothebys' The Guyton Collection event, 4 - 5 May 2019. Desirable, rare early model with 'armchair' i...
1937 Cord Phaeton in Tacoma, WA
1937 Cord 812 Phaeton Museum Piece Chassis No. 633, Engine No. FB 1865, Serial No. 812 1633 H. One of the most famous and important designs of its...
Recently viewed
1937 Cord Phaeton in St Louis, MO
To Be OFFERED AT AUCTION WITHOUT RESERVE at RM Sothebys' The Guyton Collection event, 4 - 5 May 2019. One of the most famous and important designs ...