Used 1936 Ford Coupe for sale in Arlington, TX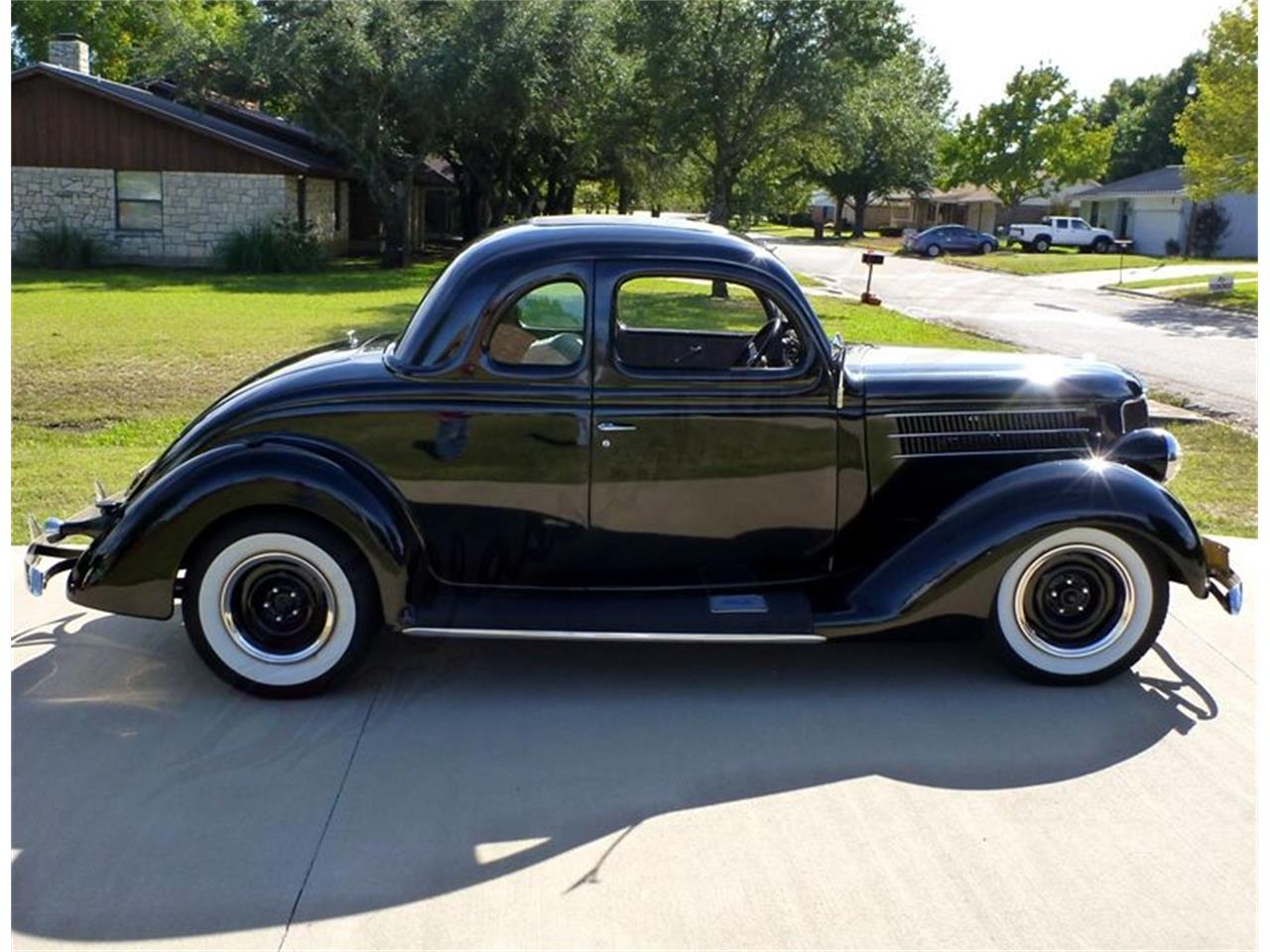 Vehicle Description
1936 Ford Coupe 1936 was a big year for Ford models as they received some subtle upgrades that really separated the car from body styles of previous years. Although similar to the 1935, the 1936 cars received new vertical grills, chrome side strips, and pressed steel wheels instead of the typical wire. They also were the first year to have concealed horns which for a long time were very prominent in Ford's designs. While they may be small changes it really brought Ford into a more modern look for the time and even today these 36's remain extremely popular. Both the originals and street rods alike are a staple at any car show. This year was also unique in that it was the last year for the standalone headlights as the world would soon see flush in fender lights which would become the standard for many years to come. This 1936 is a very nice stock style classic that is really solid. The car is an original all steel Ford. It is painted Black and the paint has a nice shine. All of the stainless trim is in good condition and it still wears its original chrome bumpers which are nice to see as they often get removed. The slide glass is all new and it still has the factory roll down rear window. Another cool factory feature is the rear rumble seat and the rear fender steps to get in it. It is almost guarantee that at every show someone will be wearing a smile as they point out that rumble seat. That being said if the rumble seat is not your style the car comes with all the parts needed to convert it into a standard trunk. The Black steel wheels look great on the car and are perfect without any sort of hubcaps or covers. Those could certainly be added but something about the bare look with beauty rings and wide whites gives it a cool old school touch. Getting this thing rolling is a 8BA 265 cubic inch Flathead V8 that runs great. The motor has been bored 40 over and built up with a Mercury crank, adjustable lifters, Offenhauser heads, an Offenhauser intake, Holly 4 barrel carburetor, Mallory dual point distributor and aftermarket headers. It has plenty of power and people who know flatheads will tell you it has all the right stuff. Cooling is provided by the Griffin Aluminum radiator with electric fan so overheating is never an issue. The transmission is a 5 speed manual that sends power back to the Granada 8 inch rear end with 2:79 gears. It is a great cruiser. Front disc brakes have been added as well as a Vega steering box which are very nice upgrades. The electronics all work properly and utilize a Ron Francis wiring unit. The interior is Grey cloth and has the original layout. The bench seat is comfortable with no rips or tears. The dash is painted black and all the components work as they should. The Old Air AC/Heat controls are on the lower dash section which also houses the adjustable vents. The Banjo steering wheel looks perfect on a car like this and is a combo of Black and Beige. This smooth running classic has a great look and was built right! Start cruising in style for only $39,950.00!
Vehicle Details
Location:
Arlington, Texas
Seller
Classical Gas Enterprises
Arlington, TX 76001
(888) 314-7142
Similar vehicles
1946 Ford Coupe in Ft Worth, TX
Good rods do everything well. You don't have to make excuses for them, you don't need a special sheet to explain to a stranger how to make it run, ...
1932 Ford Coupe in TAMPA, FL
1932 Ford 3 Window Coupe Street Rod, not a kit car, an original 32 Ford. Custom restoration, 8 cyl 355ci 438hp, (TH350) automatic transmission. Ori...
Recently viewed
1936 Ford Coupe in Morgantown, PA
1936 Ford Coupe The 1936 Ford Model 68 received a striking facelift. New features included a graceful V-shaped grille with vertical bars and wire ...
1934 Ford Coupe in Cadillac, MI
1934 Ford 3 Window Coupe, With Suicide Doors, 5500 miles, loaded Vintage AC, Ps. Power Disc Brakes All Around 350 Engine, Automatic. Please Note Th...
1946 Ford Coupe in Atwater, CA
1946 ford coupe has a chev 454 engine ..345 HP 360 LB torque very strong Contains 2 gel betteries 350 tutbo trensmission power streeing 8.5 rea...