Used 1947 Dodge Power Wagon for sale in Macedonia, OH
Vehicle Description
Professional build by Precision Power Wagons. Cummins 4BT turbo diesel, 5-speed manual, ARB air lockers, coil spring suspension, leather, A/C, satellite stereo, and so much more! The ultimate Power Wagon! This particular WDX Quad Cab is a Gen III model finished in 2016 and shows about 5000 miles on the clock—enough that you know it's sorted, but it's still in virtually new condition throughout. Precision's 4-door quad cab is built using two standard Power Wagon cabs and SIX doors so it has a correct look that looks exactly how the factory might have done it if they had ever built such a thing (they did not). The chassis was extended by 15 inches to give it a fully functional bed in back and to keep the butch Power Wagon proportions. Finish quality is exemplary, with doors that close easily, shiny paint with distortion-free reflections, and traditional colors: Submarine Seawolf Green with black fenders. The running boards were expertly lengthened (plus there are lighted automatic drop-down running boards underneath), the headlights are high-intensity units that light the road up like a lightning strike, and the heavy-duty brush guard up front is a big part of why the Power Wagon is the manliest vehicle on earth. In back, the bed was refinished and fitted with 4000-pound aircraft cargo tracks and a 12V power outlet, and it's not so perfect that you'll be afraid to treat it like a pickup truck. Open any of the four doors and the running boards drop down to make it easier for you to climb aboard. Inside, you'll find a luxuriously appointed interior that doesn't erase the Power Wagon's identity but embraces. Yes, the seats are far more comfortable than the original vinyl bench and there's considerably more space, but the driving position and feel are still very much like they should be. A steel dash, complete with crank-out windshield and overhead controls for the windshield wipers, all make you feel like it's 1947. Precision Power Wagons installs their own set of bespoke GPS-referenced instruments, too, including turbo boost and exhaust gas temperature gauges in addition to the usual stuff. You'll also note a killer AM/FM/CD/satellite stereo system with touch screen in the center of the dash, and it's connected to a rear-view camera that automatically comes online when you put it in reverse. Controls for the powerful A/C system are underneath and there are three sticks in the center that control the split transfer case, so you can send power forward, rearward, or both depending on conditions. The seats are all-day comfortable, there are switches for the ARB locking differentials and on-board air compressor, and it offers push-button starting with a remote key fob that only needs to stay in your pocket to work correctly. Heck, even the headlights turn themselves on automatically! Mechanically, this truck is built to run the way you expect a Power Wagon to run. The originals look awesome, but they're really tractors that look like trucks: crude, slow, and primitive. Not so here, where it has been upgraded with a 3.9-liter Cummins 4BT turbo diesel engine that grunts out more than 400 pounds of torque at barely a walking pace. There's power all over the tach, but you don't need to rev it to get the most out of it—in fact, we typically start in 2nd gear simply because it makes so much torque that first is only needed for really slow going. Dan and the guys painted it bright red so it really stands out in the engine bay, as well as to emulate the later Power Wagons and their red inline-6 powerplants. It's quite nicely detailed with polished stainless coolant lines, but functionality and an OEM vibe were the goal and we'd say they nailed it. The hardware is bulletproof reliable, needing only one wire and that's the one that shuts it off, so it'll take you just about anywhere you need to go without worries about a breakdown. The cooling system is massive, the wiring is all new, and given the experience behind the build, you probably don't have to worry about this one any more than you worry about your modern iron. You could drive this truck coast-to-coast tomorrow if you wanted to. It sits on a reinforced Power Wagon chassis, again to preserve the vintage feel which, after all, is the entire point. The NV4500 5-speed manual transmission shifts easily and clutch action is light, but the hardware is virtually indestructible. Oversized axles front and rear carry 4.56 gears, and with a deep overdrive 5th gear in the transmission, it cruises easily at 70 MPH. Obviously the suspension has been upgraded to coil springs with a 4-link in back to vastly improve ride quality and power steering is a very welcome addition. Gigantic 4-wheel disc brakes are more than adequate for the heavy but surprisingly fast Dodge, and thanks to careful tuning on the shocks and bushings, ride quality is excellent—a far cry from the spine-compressing original setup. A full stainless steel exhaust system will last forever and custom powder-coated wheels carry mammoth 40x13.50R17 Super Comp off-road radials. I've really only scratched the surface of this incredible truck, which is by far the finest Power Wagon we've ever seen or driven. We probably have more experience with these trucks than all but a handful of people in the world, so I can say with a great deal of confidence that this is 100% the truck you hope it will be when you buy a Power Wagon. Rugged, totally butch, and infinitely versatile, but with the added bonus of actually being usable as a real-world truck that's fast, comfortable, and air-conditioned. We understand that it's expensive, but then again, if you want one, any of the Power Wagon shops will probably quote you $300,000 for a fresh build and a 2-year wait. With that in mind, this truck starts to look awfully appealing, don't you think? Call today! For more details and photos, please visit www.HarwoodMotors.com
Vehicle Details
Location:
Macedonia, Ohio
Interior Color:
Black and tan
Restoration History:
Fully Restored
Exterior Condition:
Excellent
Engine Condition:
Running
Drive Train:
Part-time 4WD
Seller
Harwood Motors, LTD.
Macedonia, OH 44087
(440) 565-5335
Similar vehicles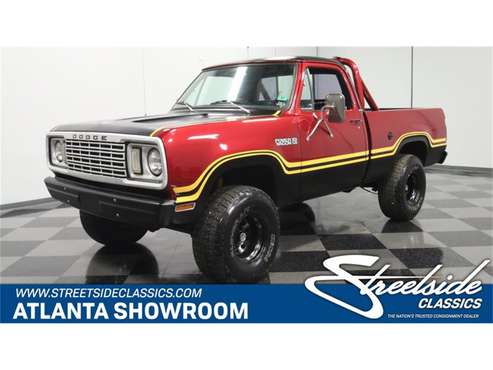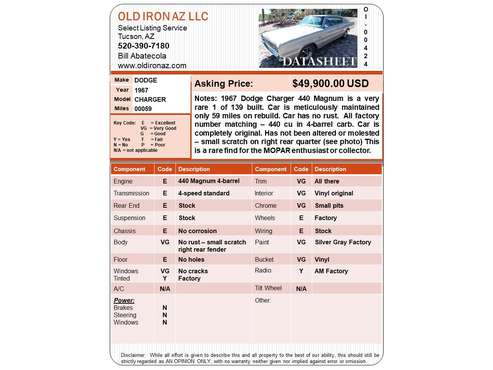 1967 Dodge Charger in Tucson, AZ
1967 Dodge Charger 440 Magnum-OI-00424 The 1967 Dodge Charger 440 Magnum is a very rare 1 of 139 built. Car is meticulously maintained and has onl...
Recently viewed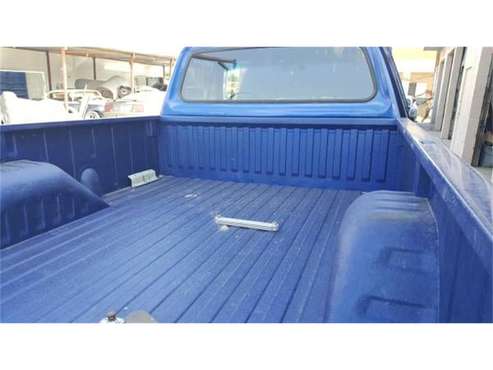 1976 Dodge Power Wagon in Ruidoso, NM
Up for sale is my 1976 Dodge Power Wagon. I am the second owner, and this truck is out of California. The original owner swapped out the factory 36...