Used 1953 Morgan Plus 4 for sale in Stratford, CT
Vehicle Description
A car I have owned for many years...only 36,000 original miles on an excellent example. Excellent body, structural wood, wood floors, older but still very nice paint, mostly new interior and quite plush (for a Morgan) with carpets and nice interior detail work. Engine is a rebuilt upgraded TR4 unit and with 105hp, this car really moves....and easily cruises at 80-85 mph. Brakes have been improved using wider drums and shoes from a later Morgan, front end and steering are all excellent, have improved the car with a new dual master cylinder unit (for safety), wring is in good working order as are all of the electrics, gauges (which have all been rebuilt), wipers, heater, etc. Recently installed new 165-16 Michelin radials, probably the finest tire for this application. Chrome is all excellent, same with top, side curtains, and tonneau. And have driven the car is fairly cold weather, 30-40 degrees and comfy cozy with the heat on. Have improved the car in every way I could imagine, electronic ignition, back up solid state fuel pump, reduction gear starter motor, spin on oil filter, rebuilt SU carbs, headers, factory stainless steel muffler, seat belts, stereo/CD with USB input, 12v outlet under the dash, on board trickle charger, battery cut off switch, on and on. Ride is fabulous, really no different from an MGB. Granted, not a lot of axle travel over big bumps (when you are glad there are seat belts so you don't go into a low orbit), but on normal roads, it is very comfortable. Not sure but I guess it is possible due to the superior rear suspension....pre 1954 Morgans used a sliding trunion rear suspension, after then, they went to cheaper shackles. But whatever is the reason, ride is great. Car has a factory luggage rack, fog light, working turn signals, the optional front bumper, and whatever else I could do to improve the car. A note about the four seats....the interior is FAR roomier than a two seater and, in fact, my son (6.'3" and 300 pounds) has driven the car quite a lot. Whereas I find my two seater really cramped (and I am 5'8" 170 pounds). ALSO the seats have genuine 'real' springing while the two seaters, the driver and passenger sit on a ....wooden board. ALSO, the seats are adjustable front and rear and also backrest angle Best of all, the back seat is NOT a 'jump seat' like a Healey . They are real seats and the above mentioned son AND his girlfriend have sat in the back a fair amount of time. Use? Last year, we were coming back from a Quebec vacation (where I always trailer my Morgan) and we got to the border with some fumes coming out of the tow car's automatic transmission. So we did the obvious, unloaded the Morgan and drove it the next 308 miles home. Never missed a beat, cruised at 75-85 mph the entire way, stereo on, comfortable, and both the tow car AND the Morgan got back. So, yes, this Morgan is ready to drive anywhere. Anything else? We have had fun renting it out for weddings, proms, parades, music videos, fund raisers, and even a few photo shoots for the Ralph Lauren organization. Helped put my son through college (the car ALWAYS was driven by him as chauffeur). The best vacation car due to the visual impact, utility of four seats, reliability, and fun operation. A great car. Also a note about 'Flat Rads' which are my favorite Morgan. When Morgan morphed from three to four wheel cars in the mid 1930s, they had a classic look shared with most period English sports cars...MG, HRG, etc. But with a small engine, were relagated to the kind of use so typical of a country which was comprised of mostly slow speed winding roads. Even after the war, the Flat Rad Morgans relied on a 1267cc Standard engine of limited performance. But by 1950, the company decided to go 'upmarket' with a 2 liter car. The result was the introduction of the 'Plus 4' in 1950.....with substantially more horsepower, and in comparison with most of the competition, they were quick. And in those years, 1950 to 1953, only around 670 were built. Of which a mere 141 were four seaters. In addition to the greater increase in displacement and power, the Plus 4 Flat Rad was the first Morgan to use hydraulic brakes replacing the ancient mechanical brakes. HUGE improvement. And in 1954, due to a desire to 'modernize' their line of cars (and due to the fact the company making separate headlights for Morgan and MG, stopped production) the front of the bodywork was changed. Which is why a 1954 MG TF looks so much like a 1954 Morgan and why a 1953 MG TD looks so much like a 1953 Morgan), the grille lost its beautiful chrome cowl, replaced with a metal cowl, and the headlights fared into the front fenders. So, since then, most Morgans look the same (or, at least, similar) to all other Morgans. Giving some the impression that Morgans are just replicas....of themselves. But not a Flat Rad.....a post war car with plenty of performance (and remember, not that much later, in 1962, a Morgan finished 10th overall and 1st in the under 2 liter GT class at the 24 Hours of LeMans beating the factory Porsche and Alfa teams), rugged back axle (same one from 1950 though 1994!), a super heavy duty gearbox (essentially the same as used by Jaguar from 1948 to mid 1965.....and a racing E Type might have well over 300hp, hence, these tough units last forever in a 100hp Morgan). And, incredibly, one can still call the factory in Malvern, England, and order parts for this 1953 Morgan. Truly incredible. Not to mention the many Morgan dealers in the US and the fact that so many of the parts are the same as widely available MGs and Triumphs Alas, just purchased another four seater making this car a bit redundant in my collection. I never thought I would ever offer this car for sale but, now, here is your chance to own one of the best and most usable and distinctive classic sports car in existence.
Vehicle Details
Location:
Stratford, Connecticut
Seller
The New England Classic Car Co.
Stratford, CT 06615
(888) 458-1711
Similar vehicles
1961 Morgan Plus 4 in Stratford, CT
From what we were told, a very clean, very straight car that underwent a near $50,000 restoration to very exacting standards. And having owned thes...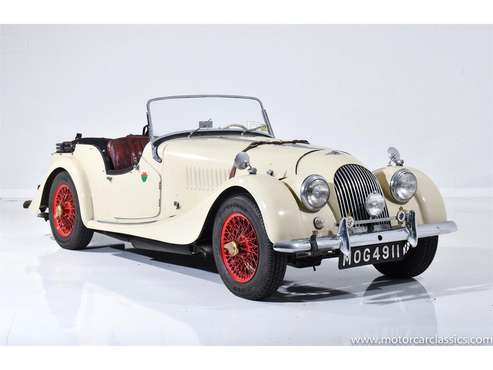 1961 Morgan Plus 4 in Farmingdale, NY
1961 Morgan Plus 4 Four-Seater Tourer. Motorcar Classics is proud to present this brilliantly original 1961 Morgan Plus 4 Four-Seater Tourer featur...
1967 Morgan Plus 4 in Rye, NH
History of the 1950-1969 Morgan Plus 4 "It's a cliche to be sure, but Morgan really is the car company that time forgot. Or, more accurately, they...
Recently viewed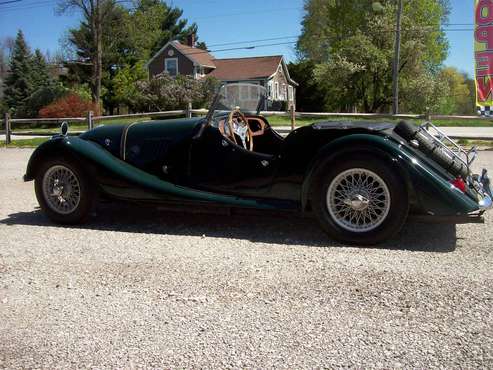 1967 Morgan Plus 4 in Medina, OH
car was restored a few years ago runs and drives great. only 38000 miles with 3 owners. has the original series v ford gt engine. very solid.. two ...
1966 Morgan Plus 4 in Medina, OH
this is a 1966 morgan drop head coupe . car is in very solid condition. runs and drives very well. original triumph engine. new brakes hoses. new b...