Used 1955 Ford F100 for sale in Concord, NC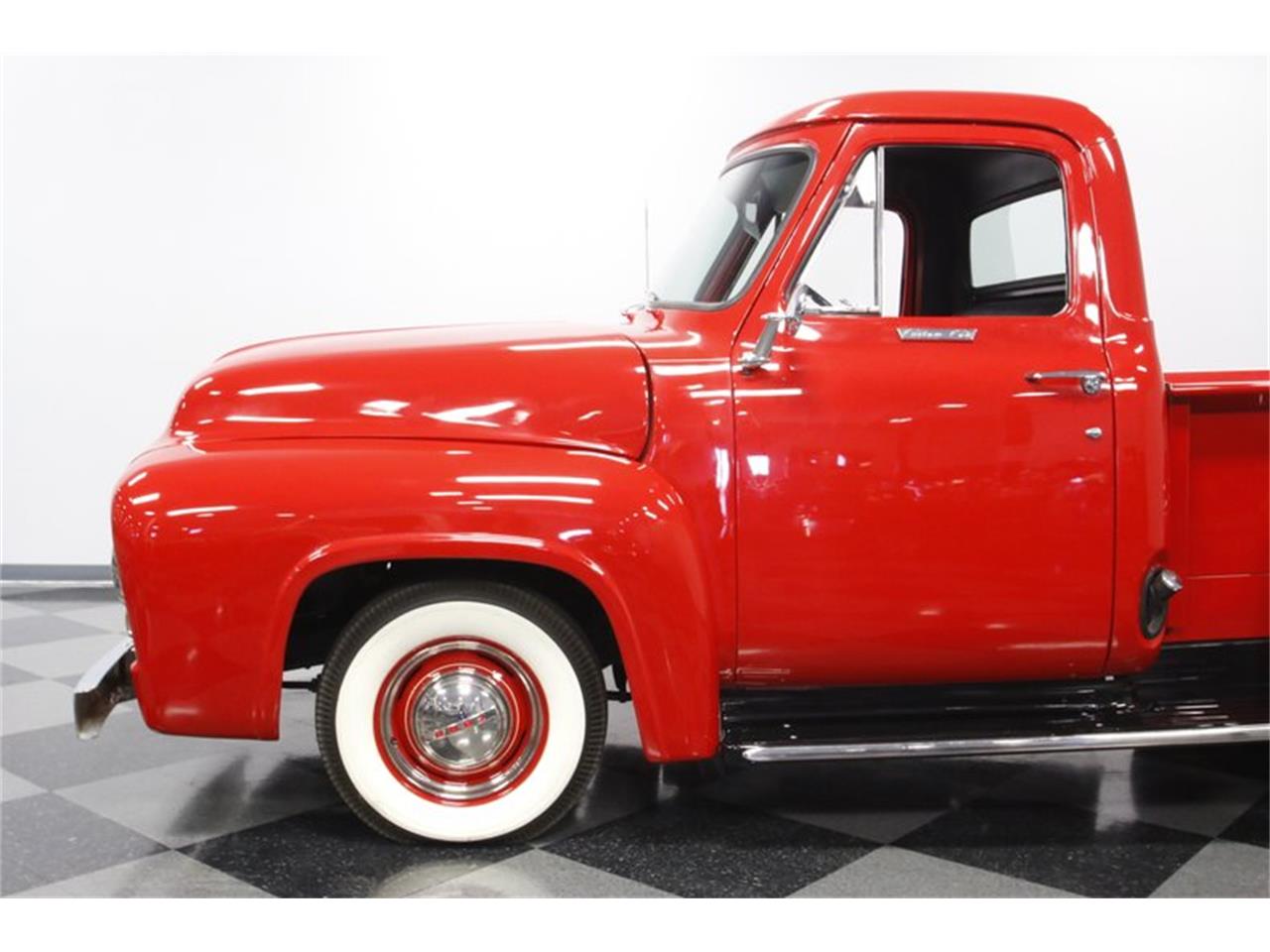 Vehicle Description
Here's the truck that defines "Old School." This 1955 Ford F-100 has a timeless style, legendary V8 power, and the kind of gloss that makes you instantly nostalgic. And because this has been expertly restored, you truly get to drive your memories. You know you want this truck. It has those original good looks that can instantly transport you to another time. But just like your best memories, this one seems to have a little better presentation then they did back then. After all, the red paint has more depth than they could get in the '50s; the chrome bumpers have a brighter mirror-like shine; and even the real wood in the truck bed never looked this good. This one has an almost two-tone presentation with the white on the grille and tailgate joining the iconic whitewall tires. Heck, even the steelie wheels have a cool white pinstripe. That's the kind of detail work you can expect from this pickup. Which is why you have everything from the yellow driving lights to the rare thunderbolt front badge leading the way. Inside there was a nice investment in keeping everything fresh and period-correct. Originally the cab was built for long-lasting function, and today it retains the same tough appeal as a good war story. The durable bench seat and rubber floor mat meant cleanup after a hard day's work was no problem. The dash retains the same red and white appeal as the exterior, and there's plenty of space thanks to an uncluttered feeling. Ford fans will pick up on the rare AM radio option that's still on display. When you grab the grippy three-spoke steering wheel, the well-defined groves can almost transport you back to a simpler time. In fact, the only piece that's not period-correct are the auxiliary gauges. Of course, these are a welcomed addition for those who like to drive their classics. The second-generation F-series debuted a new more powerful Y-block V8. This one proudly displays the Power King upgrade on the valve covers. Plus, with the polished fender walls, red firewall, bright intake, and bold blue block, this has a stellar total presentation. We all love the look of the classic oil bath air cleaner. Plus, you'll get an extra kick out of telling people that the date code on the block is correct to 1955. This was also converted over to a 12-volt system. That not only means better parts availability, but also you'll instantly appreciate the new alternator and headlights any time you feel like getting to the car show before dawn. The single exhaust gives this one a classic rhythmic beat that feels like being in charge of a mini locomotive as the tempo increases with the acceleration. The three-speed manual transmission shifts crisply and the brakes have been properly maintained. In the end, the full experience of being behind the wheel feels like rolling history. This is the '50s Ford pickup that delivers all the best of the era... and just like your best memories, it has deleted the bad parts. So don't miss out on the best vintage truck experience. Call now!
Vehicle Details
Location:
Concord, North Carolina
Seller
Streetside Classics - Charlotte
Concord, NC 28027
(888) 721-8492
Similar vehicles
1966 Ford F100 in Cadillac, MI
1966 Ford F100 Shortbox with a 240 six cylinder and 3 speed. Truck is very straight and solid. Mostly original. It has had one repaint in the origi...
1953 Ford F100 in Denver , CO
Worldwide Vintage Autos is pleased to present this 1953 Ford F100. HISTORY The Ford F-Series was redesigned by Ford for 1953 with a more integrate...
Recently viewed
1952 Ford F100 in Long Island, NY
Up for sale is my 1952 Ford F1 in excellent shape. This truck has the original flathead V-8, with a five speed transmission on the floor. This is a...
1972 Ford F100 in Cadillac, MI
1972 Ford F100 Ranger Good condition, runs great. This truck has served wonderfully for the past 2 years. Old truck so it takes a bit to turn over ...
1959 Ford F100 in Cadillac, MI
1959 Ford F100 bagged late 80s small block with an automatic transmission front disk brakes and power steering truck runs great comes with an unins...