Used 1957 Chevrolet 210 for sale in Charlotte, NC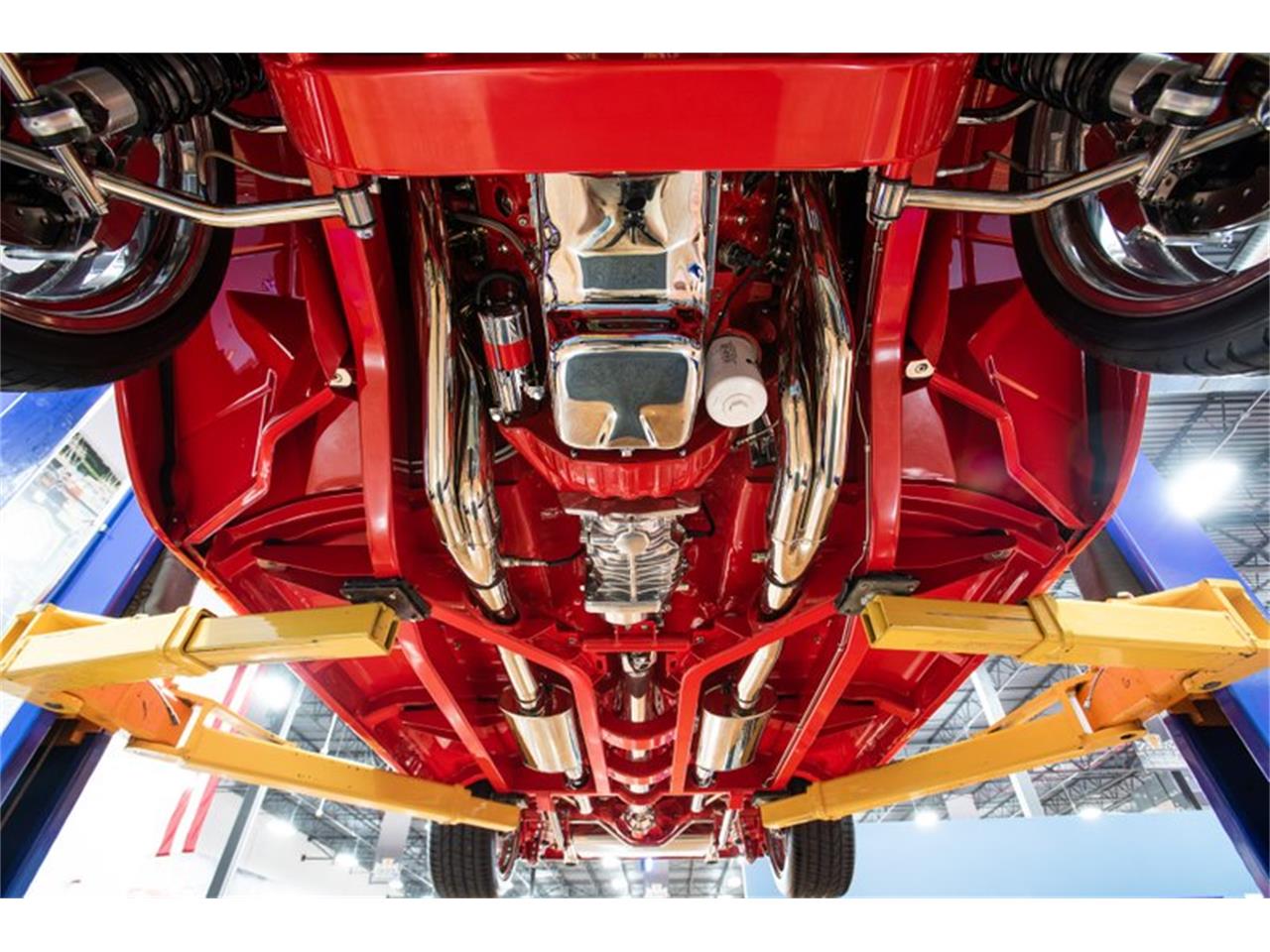 Vehicle Description
The automotive scene can be a fickle place. Trends come, go, fizzle and sometimes even cycle back under the guise of "retro". While many builders strive to create cars that offer the flavor of the day, others use calculated observation to transform premier classics into timeless customs. This national award-winning 210 features plenty of modern must-haves, like cool air conditioning, designer upholstery and polished Budnik wheels. But items like a full Art Morrison chassis, a buff Ramjet 502 and a fun Tremec 5-speed certainly underscore the fact that the car marches to its own beat. So, if you're looking for a razor-sharp custom that's ready to attract big crowds and big trophies, here it is! NATIONAL AWARD-WINNING APPEAL Professionally restored in Louisiana, this 210 was originally envisioned as a nice driver. That said, we all know how small projects tend to turn into epic builds, and the car ended up being an incredible national award winner that complemented a Ridler Great 8 award with a Goodguys Builder's Choice award, an NSRA Pro's Pick, a Shades of the Past Top 25 and honors from not one, but two ISCA championships. The Chevy's nut-and-bolt rotisserie restoration, meticulously maintained since its completion, is so detailed that even its original quarter panels were removed, massaged and painted inside and out. Speaking of paint, that vivid 2-stage is DuPont Hot Hues Dragon Fire Red, which is decked in glorious chrome that was fully replated by Nashville, Tennessee's Advanced Plating. And excellent fit and finish is a nice complement to professionally filled seams. At the front of the car's post body, a custom bumper traces a custom honeycomb grille, which centers an ornate crest and hooded parking lamps beneath a nosed hood and modern headlights. Behind those lights, requisite Speer Bullet Spoons front a filled cowl, which founds factory-tint glass on shaved, electronically-popped doors. Those doors close in a monochromatic profile, which hangs emblem-free quarters opposite filled fender gills. And at the back of the car, a second custom bumper traces LED tail lamps and a decked trunk lid that's been smoothed both inside and out. NOT JUST A 502 Built to go just as well as it shows, this Chevy's 502 cubic inch Ramjet big block provides an excellent mix of fun times and fried tires! At the top of that smoothed and painted mill, a custom, body-matched shroud funnels oxygen in to a chromed GM Performance Parts intake. At the base of that intake, polished heads anchor body-matched valve covers between polished stainless headers and a full array of chromed breathers. At the back of those heads, a hot distributor sequences fire through beefy Taylor plug wires. At the front of those wires, bright Billet Specialties Tru Trac serpentine components spin a polished alternator opposite a polished AC compressor. Cooling is provided by a polished water pump, which is aligned behind two electric puller fans, a big aluminum radiator and two polished coolant tubes. The buff motor rumbles in a glossy, body-matched engine bay that's finished with chromed hinges, custom side panels and a custom firewall. And naturally, that clean frame highlights a sea of first rate hardware that includes a polished starter, polished freeze plugs, a polished oil pan, and fully hidden wiring and hoses. CUSTOM AND CUSTOMIZED Under the car, traditional tri-five bones have been replaced with a smoothed Art Morrison chassis that's fully dressed in chromed suspension components. At the center of that skeleton, a polished Tremec 5-speed uses a modern hydraulic clutch to spin a polished aluminum driveshaft. That shaft spins a smoothed Ford 9-inch that, according to the car's builder, is finished with a posi-traction differential and Strange 3.70 gears. Turns come courtesy of power rack-and-pinion steering. Stops are provided by polished Wilwood calipers, which squeeze a quartet of drilled and slotted rotors. Spent gases float from the aforementioned headers to custom Stainless Works pipes, which pass through mirrored mufflers. Everything rolls on polished Budnik Illusions, which spin 245/35ZR19 Pirelli P Zeros in front of 275/40ZR20 Pirelli P Zeros. And the car's solid, over-restored floors are dotted with first-rate details, including adjustable coil-overs, a Dragon Fire Red bellhousing and a polished fuel tank. BROCKMEYER AND ATKINS Open this hardtop's doors and you'll find a custom cockpit that was penned by designer Eric Brockmeyer and installed by Paul Atkins of Paul Atkins Interiors. Front and center, a stylish dash hangs modern pushbutton ignition beneath clean Classic Instruments telemetry. Beneath that dash, trim carpet frames billet foot pedals and a custom console that's centered on an angled TKO shifter and Vintage Air climate control. The passengers perch on short bucket seats. The driver spins a polished and half-wrapped steering wheel, which laps a tilting column. And conveniences like modern power windows, crisp Pioneer audio and full Dynamat insulation combine tantalizing form with terrific function. Owning a lights-out classic is cool. Owning a lights-out classic that's been professionally customized is something few are lucky enough to experience. Don't miss your chance to experience this incredible Chevy sedan! HIGHLIGHTS National award-winning Chevy 210 that's the product of a nut-and-bolt rotisserie restoration 502 cubic inch Ramjet V8 Tremec 5-speed manual transmission / Hydraulic clutch Ford 9-inch rear axle / Posi-traction differential / Strange 3.70 gears Modern air conditioning Art Morrison chassis Power rack-and-pinion steering Wilwood 4-wheel disc brakes Custom leather interior / Modern audio 19 and 20-inch Budnik Illusion wheels DuPont Hot Hues Dragon Fire Red paint Custom Stainless Works exhaust Restoration photos All RK Motors vehicles receive a comprehensive, multi-point inspection We can arrange shipment of your purchase anywhere in the world
Vehicle Details
Location:
Charlotte, North Carolina
Exterior Color:
Dragon Fire Red
Seller
RK Motors Charlotte
Charlotte, NC 28269
(888) 679-5738
Similar vehicles
1956 Chevrolet 210 in Seekonk, MA
This outstanding 1956 Chevrolet 210 Custom is total eye candy and loaded with many upgrades throughout. This car has been completely restored to sh...
1955 Chevrolet 210 in Cadillac, MI
1955 Chevrolet 210 sedan pro touring Extra nice 55 two door post, 350 auto(700R4) overdrive, power disc brakes, power steering, air-condition, powe...
Recently viewed
1956 Chevrolet 210 in Mankato, MN
This 1956 Chevrolet 2 door sedan, beautiful car. Still has the stock drive train in it, inline 6 underneath the hood, manual transmission 3 on the ...
1955 Chevrolet 210 in Cadillac, MI
1955 Chevrolet 2 door model 210 rebuilt in 2002 with a 224 Crate motor (350 Block with aluminum heads, 355 HP) with Borg-Warner T-10 4 speed, vinta...
1957 Chevrolet 210 in Milford, OH
1957 CHEVROLET 210 4 DOOR SEDAN, ORIGINAL 6 CYL, AUTO, RADIO DELETE, SHED FIND IN NC, GOOD TO RESTORE OR PARTS CAR. THIS WAS FOUND IN NC WITH A BUN...