Used 1963 Chevrolet Corvette for sale in Chicago, IL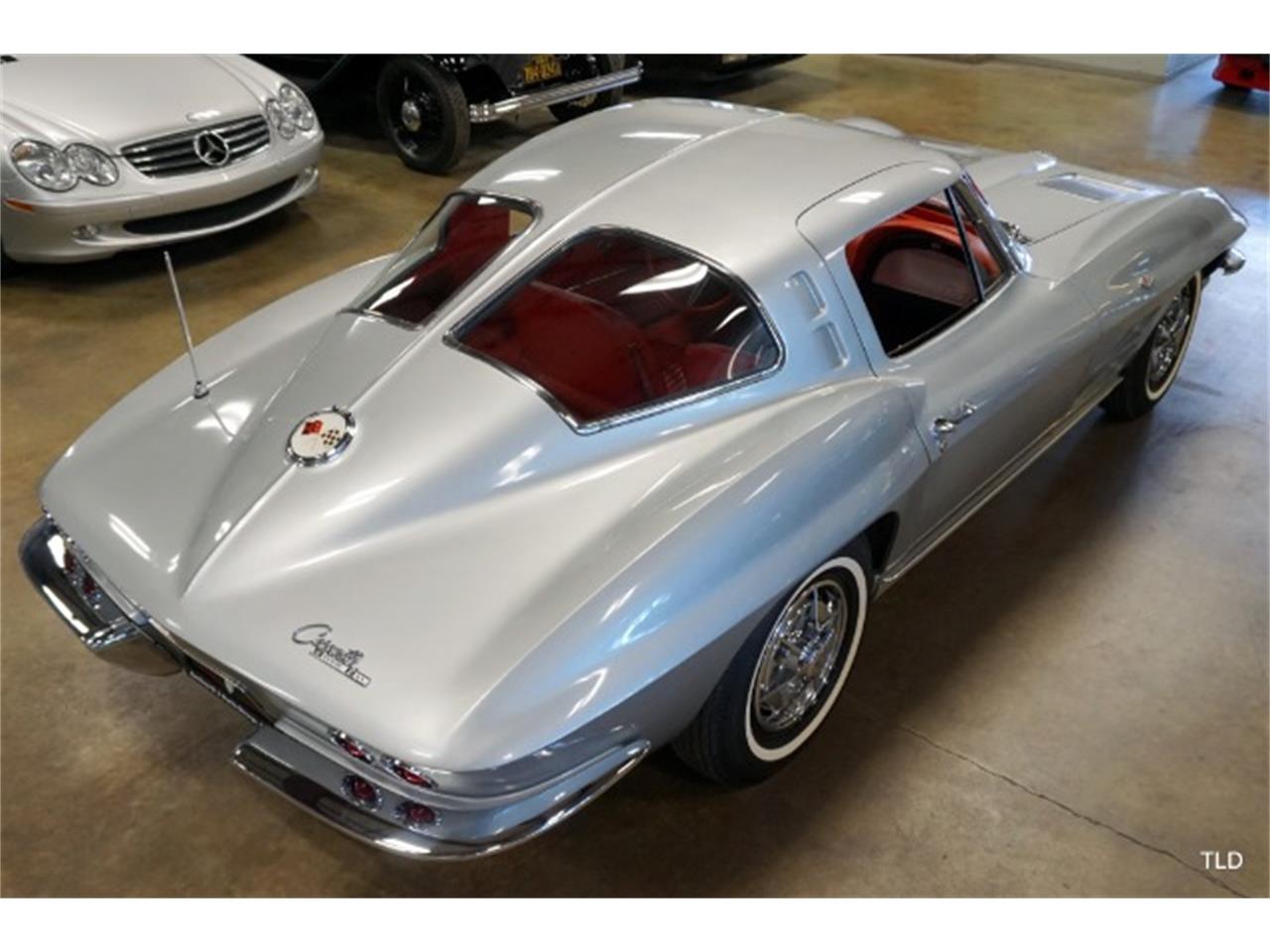 Vehicle Description
INCREDIBLE SURVIVOR WITH 14,200 CERTIFIED MILESOUTSTANDING ORIGINAL SEBRING SILVER PAINT FINISHHISTORIC FIRST-YEAR EXAMPLE OF A TRUE ICONFORMERLY OWNED BY RESPECTED CORVETTE COLLECTORSEXCEPTIONAL ORIGINAL AND UNRESTORED CONDITIONPROPER LONG-TERM STORAGE AND CARE327/340 HP ENGINE, 4-SPEED, POSITRACTIONPOWER BRAKES, POWER WINDOWS, AM/FM RADIO Of all Corvettes, and sports cars for that matter, the 1963 Corvette Sting Ray, with the iconic split rear window design, is a true must have for every serious automobile collector. Truly original, unrestored and unadulterated examples are the rarest and most sought-after today by purists who truly appreciate only the finest and most original of them. Known history of this incredibly original 1963 Sting Ray Coupe dates to summer 1975, when Friendly Bob Adams of Union Grove, Wisconsin discovered it at Bill Dale Chevrolet in Waukesha, Wisconsin. The Corvette was sold to noted Corvette collector and good friend, Jerome Shinkay of Janesville, Wisconsin, who was posthumously elected to the prestigious Bloomington Gold Great Hall of Fame as a pioneer in Corvette collecting in 2012, the same year Dave McLellan, former Corvette chief engineer, was inducted. The Corvette was kept for some time in Jeromes heated building, accompanied by another 90-plus collector-quality Corvette models.Subsequently, the next owner obtained the Corvette at the precise indicated mileage as when Jerome first purchased the Stingray 13,999 miles to be exact. The Corvette was then sold to a serious Corvette collector located in Pennsylvania, where it sat undisturbed and kept in the most ideal storage conditions imaginable for the next 40-plus years. Specifics of this very special first-year Corvette Sting Ray Coupe include the solid-lifter 327/340-HP V-8 engine, 4-speed manual transmission, Positraction rear axle, power brakes, power windows, AM/FM radio and white sidewall tires (non-DOT marked). The Corvette retains its 100 per cent original Sebring Silver paint finish, with zero crazing, over a brilliant, all-original red interior. Just 14,200 certified miles have been traveled.What makes this Corvette so unique is the fact that it has been virtually untouched since the day it left the St. Louis Corvette factory in May 1963. Even the engine compartment remains undetailed. The paint is almost unbelievable in originality and quality, appearing more like a 6-month-old dealer demonstrator rather than a car that was produced 56 years ago. In recognition of its exceptional and unrestored condition, this 1963 Corvette Stingray has received the prestigious Bowtie Award from the National Corvette Restorers Society (NCRS), which is given to unrestored Corvettes that have been successfully judged and voted to be historically and educationally significant. According to the NCRS, The award is intended to recognize the car and encourage the owner to retain and display the car in its present condition, for the enjoyment and continuing educational benefit of the NCRS membership. In fact, the NCRS judges thought so much of this Split Window Stingray, they had the owner jack up one side of the vehicle to allow fellow NCRS members to inspect it to learn how to correctly restore their own 1963 Corvette.Additional awards earned by this exceptionally original 1963 Chevrolet Corvette Sting Ray Coupe included Bloomington Gold, Bloomington Gold Survivor and the most difficult to achieve, Bloomington Benchmark all three during 2019. After the judging was completed at this years Bloomington Corvette Show, a couple of the judges returned to photograph this Corvettes fine details as reference points to show how the Corvettes were finished when they rolled off the assembly line in 1963. Included with the sale of this historic 1963 Corvette Sting Ray is the original mileage odometer statement issued back in 1975 by Bill Dale Chevrolet back in 1975 at 13,999 miles. Contact us now! We invite close inspection of this investment-grade 1963 Chevrolet Corvette Sting Ray Split Window Coupe from the historic first model year of the second-generation Corvette series.
Vehicle Details
Location:
Chicago, Illinois
Seller
The Last Detail
Chicago, IL 60064
(888) 716-7331
Similar vehicles
Recently viewed
1963 Chevrolet Corvette in Argyle, TX
Outstanding Private Owner Matching Numbers 1963 Corvette Convertible Winner of 22 Best of Show, 1st Place, and Class Award Plaques & Trophies ...