Used 1965 Chevrolet Malibu for sale in Elyria, OH
Vehicle Description
Sunnyside Chevrolet of Elyria, Ohio in conjunction with Greg's Sports, Classic, & Muscle is proud to offer for sale this beautiful 1965 Chevelle SS Convertible.OK let's say one thing right up front- this is a REAL SS Convertible, not some wanna be poser. The 13867 code on the trim tag says it all. Case closed. Recently traded to us on a new car purchase from a family who owned it and loved it for a long time. Here's what else we can glean from the original trim tag- Factory SS, Factory 4-speed car, Factory tinted glass, power top and padded dash. Factory black interior and originally finished in Madiera Maroon now done in a redder shade of red.Currently sporting a 400 small block that the previous owner told us was "built" and backed by a Tremec 5-speed this car is a blast to drive. Not sure how many ponies under the hood but with the Edlebrock Carb and intake and the way the car reacts when you mash on the gas were fairly certain you'll enjoy its motivating ways. When it comes time to stop rest assured the front disc brakes make sure the job gets done. Air conditioning has been added at some point in its life and we have taken no steps to check it or insure its operation- come-on it's a convertible for Pete's sake- drop the top.This is a very nice driver quality car with nice paint, a nice interior and top, a presentable engine compartment and trunk and a car that went through our mechanical inspection very well. If you're looking for a concours, numbers matching SS Chevelle Convertible we can help with that in the 70K range- this is not that car. Pop on your sunglasses, drop the top and make believe you are perhaps a little younger than we are....Drive it, show it, keep it in a bubble and polish it as a prized possession, the choice is yours once you make it yours.We stand behind our thoughts on this car by offering our travel expenses guarantee- come see the car and if we have materially misrepresented its condition we will gladly pay half of your travel expenses up to $500.00- this offer had been in place since we sold our first classic and we haven't paid the money yet.... We pride ourselves on having good cars and representing them properly.Additional pictures and video are available, please call 440-365-7311 for more photos, information or to schedule a test drive.
Vehicle Details
Seller
Sunnyside Chevrolet
Elyria, OH 44035
(888) 699-6457
Similar vehicles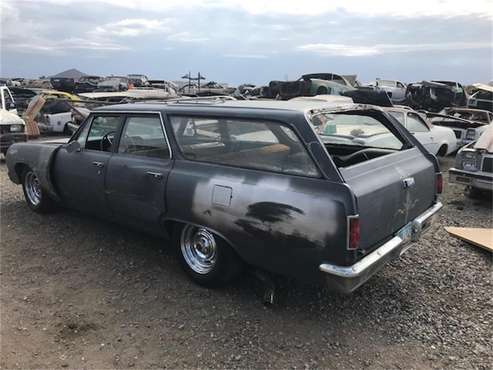 Recently viewed
1971 Chevrolet Malibu in Ft Worth, TX
If you like your Malibus stock, well-preserved with a great historical pedigree, and with low original miles, perhaps this numbers matching, 1-owne...
MALIBU 2014 LT in McAllen, TX
Titulo rebuilt 4cl 73mil millas bolsas de aire buenas camara de reversa faros a/c cd auxiliar usb Bluetooth motor transmision en excelentes condici...