Used 1966 Shelby Cobra Replica for sale in Morgan Hill, CA
Vehicle Description
B & B 1966 Cobra Replica Spec & Data Sh eet Frame & Body: Welded 2 X 4 box steel with double 1 X 2" welded cowl hoops. Hand laid gel coated fiberglass body with core matting in fender wells. Stage III Special. Geometry: 90" wheel base on center. Front end is of ford mustang II geometry, tube type A arm suspension with Carrera coil over shocks, Part # 3936SU258, spring part #8MB375, chrome plated with Big Block Spacers. Fitted with rack and pinion steering with a Ford Mustang II steering column. Ford 9" Versailles rear end, tube type suspension with Carrera Coil over shocks, steel-Hyper charged w/BRGS, part #3363, Spring Part # 10CS185, chrome plated. Brake System: Master Cylinder is Ford Bendix #11855 with internal proportioning valve. DOT3 fluid. Front and rear disc brakes with 11" Granada rotors and GM calipers. Hand brake is cable operated. Drive Train: Engine is a Ford 460, 1971 vintage approx. 600HP, at 600+ foot-pounds of torque. Bored and honed to + .030 over, 10-1 compression. KB 206 Keith Black Pistons with # E296K sealed power moly rings. Rod bolts are ARP #150-6404. Eldelbrock Performer RPM Aluminum heads, MSD Ignition 6AL, #6420, with rev limiters, MSD Pro-Billet Small Diameter Distributor #PN8577, with bronze distributor gear. MSD Master Blaster Coil #PN8200. Scorpion roller rockers, 1.73 ratios. Custom length moly pushrods. True roller timing set – 9-3122. Hydraulic roller lifters, Jeg's #027035532-16. Chet Herbert Custom grind hydraulic roller cam. .579" valve lift with 1.73 rocker ratios, 224 int. duration, 232 exh. Duration @ .050-112 degree lobe center. Eldelbrock 7166 Performer RPM intake. Carburetor is an 850CFM #4150 / 0-4781C Holly duel feed double pumper. Accelerator cable Ford/Napa Auto #601-1441 Air Cleaner is Wysco Jeg's #6020-1C Valve covers are polished alum. Ford Racing, #M6582-C460, Harmonic balancer – fluid damper – SFI approved. Water pump, Jeg's #09258211, high volume. March pulleys, Jeg's #06551810. Electric Fan Jeg's Perma-Cool, 16" 1200 cfm, #077119126. Fuel Pump is Holley, RED 3:12-801-1. Milodon Dual Sump oil pan #31129, 8" max. Depth – 7Qt. Capacity, with Milodon Pickup screen, #18840, and high volume oil pump. Firewall & Foot Boxes: Custom Fitted polished aluminum over front of firewall and foot boxes. Heat reflector insulation installed under aluminum Scatter Shield: Lakewood # 15220, machined to accept clutch cable housing. Clutch & Pressure Plate: Center Force II, 11" duel friction clutch and pressure plate. Clutch cable pionner Com # CA318 Transmission: Treme TKO # TR3550-2.3 Qt's of GM Synchromesh oil #12345349…optional fluids are dextron II & Mercon Synthetic. Drive Shaft: Drive Line Service, 3132 Coffee Ln Santa Rosa, 528-7886. Approximate length 18" CLF driveline, #1330-2-1707-2.5 #083-U1369F-13375 Rear END: Ford 9" Versailles, axels are Mosure 28 spline, 3.50 gears, 3qts Of 85-140 gear oil. Gas Tank: 18 Gallon Poly Tank. Supplied by B&B. Sending unit, Faria #LS1038 Gas Cap: Polished alum. Lemans style cap. Interior: Color: Pearl Gray Allante # AL856, dash, seats and door covers with side pockets, with fitted gray carpeting. Heat and sound insulation installed on firewall, foot boxes. Floors have Dyno-mate sound insulation under carpet and carpet pad. Full Faria gauge set, Speedometer, Tack, Oil, Water Temp, Fuel and Volts, Moto-Lita, MK4, 14" leather steering wheel, 9 bolts with Boss adapter ford #F-24. Simpson, 5pt shoulder harness seatbelts. A 2.5 Lb. Chrome fire extinguisher and mount. Gear shift is custom made straight stock polished aluminum. Knob is aluminum, Cobra logo from finish Line. Wiper motor mounted under dash is a Lucas 2sp. Supplied by B&B. Two position ignition switch. Wiring Harness: By Haywire, Inc. 1415 Praire View Rd, Joplin, Mo. 64804 Ph 417-623-7239. Welder's cable, 1/0-250 is negative side, welder's cable HW-5040040 is positive side from battery Wheels & Tires: 15" GT-40 bolt on fully polished aluminum rims custome packspacing. PS Engineering, Torrance, CA 213-534-4477 "Phil". Good Year Eagle GT II Radials. Front: P235/60R15 Rear: P295/50R15, raised white lettering, chrome valve stems. Benedetti Tire Service, 829-0562. Paints & Coatings: Color: Vivid Pearl Blue, 3qts. Dupont KP/#P9441K. White: 1 Pt. Dupont #9446K, Pearl for white: 1pt. Dupont HC-4585S. Clear Coat: 1gal. Dupon Hyper clear productive #HC-4700S. Reducer: 1qt. Dupont # V-1075S VOC urethane reducer. Primer: 2pts. Dupont # 1125S URO Primer filler activator. 1qt Dupont URO Primer fast converter #1135S. 1Gal. dupont Gray URO primer #1140S. Rubberized undercoating applied to fiberglass underbody. Hawley's Paint store, 545-1711. Side pipes, headers and side louvers are ceramic coated, polished aluminum. Microcoat systems of Santa Rosa. Deck Emblems: Cobra emblems for nose and trunk decks as well as Ford 427 side badges. Provided by Finish Line, FL. Roll Bars: Polished Stainless steel roll bars and installations kits with polished aluminum base trim bezels. Finish Line International inc FL.Roll bars are fitted with LED lighted license plate bolts at top of arc, 2 of each side act as 3rd brake light. Street Glow from Summit Racing. Lights: Tail lights are provided by B&B, rectangular style with 1157 blubs. Also custom fitted with Red LED Bulkhead lights #03272 from Custom Dynamics, NC Headlights are sealed twin beam blubs from B&B. Latches: Doors, Trunk and Hood, Latches are chrome plated, supplied by B&B. Bumpers: Polished aluminum over rider bumperetts attached to quick jack brackets, supplied by B&B.
Vehicle Details
Location:
Morgan Hill , California
Exterior Condition:
Excellent
Engine Condition:
Running
Drive Train:
Rear-wheel drive
Similar vehicles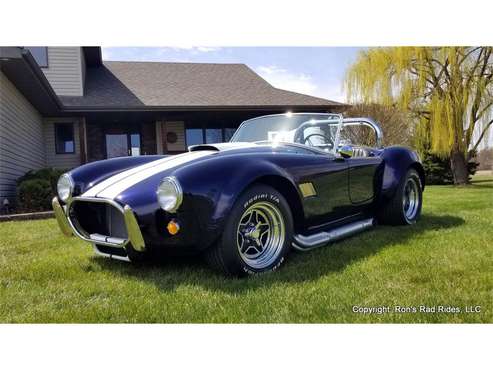 2007 Shelby GT in Sugar Hill, GA
Make: Ford Model: Shelby Mustang GT Type: Coupe Details: CSM07SGT3213 Engine: V8 Transmission: Manual Mileage: 1050 This 2007 Ford Mustang i...
Recently viewed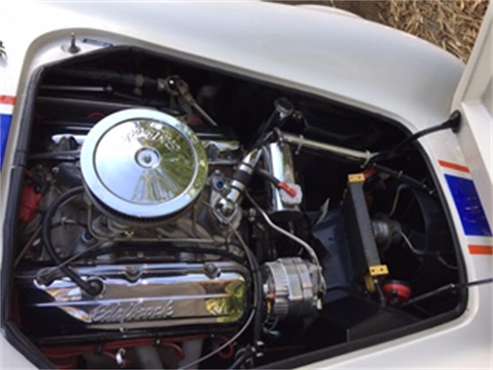 1966 Shelby Cobra Replica in Ojai, CA
Butler Cobra replica, 454 Chevy eng, Turbo 400 trans, Jaguar rear end, MSD ignition, 0 to 60 in the 3 second range, Rally colors, Butler made one o...