Used 1967 Ford Mustang for sale in Lavergne, TN
Vehicle Description
Sure, you could probably build a 1967 Ford Mustang Prostreet like this. First, find yourself an ultra-clean early Mustang that doesn't cost about half of what this one does, all finished. Add one 4.6L V8 engine and 4-speed auto out of a late-model GT. Once you collect all the materials and parts, you'll be several tens of thousands into the build, then you'll add about two years of your time. Still think this 1967 pro-street coupe isn't a screaming bargain? Someone pulled out all the stops to put this car together, and it's ultimately the new owner who will benefit. Cost doesn't appear to have been a consideration with the bodywork on this early Mustang coupe, as it sports straight panels and solid driver-quality paint that anyone would be proud to show off. A lot of the trim was shaved, including the emblems on the front fenders, and a Thunderbolt Teardrop-style hood was installed to give it a custom look. Then they shot it with vivid bright blue paint with lots of luster in the base and a great shine in the final product, which only comes from a careful color-sand and buff session. A big front chin spoiler, GT fog lights in the grill, and that gigantic tubbed rear are classic styling cues that just scream high performance, and while it's not perfect, it definitely has a high-quality look that belies its affordable sticker price. If you crave attention and like to scare the neighbors, this Mustang will delight you. The interior is a tasteful resto-mod environment that gets the big stuff right and leaves the rest alone. Late-model buckets that provide plenty of bolster support while fitting neatly into the snug cabin. The fat 3-spoke steering wheel manages the crisp steering, and there's a beefy 6-point roll bar that was expertly installed for easy-entry into the vehicle and adds rigidity to the tub. Back-lit aftermarket digital gauges were installed in a custom gauge panel that fits in the original location, but the rest of the dash maintain its original spirit. There's no console, which is a favorite high-performance look, and that modern shifter now manages a 4-speed automatic out of a 2001 Mustang GT instead of the original spec transmission. Cold R134a A/C is controlled by the dials underneath the dash, and the trunk is filled with those wide tubs and a relocated battery, but there's still some room left for a small travel bag or two. Under the skin is where this Mustang really stands apart. The engine is a late-model 4.6 liter V8, swapped in from a 2001 Mustang GT. Throttle response is instantaneous and the power is delivered well before you can even get your foot on the floor, so take it easy! The engine bay is clean and very nicely detailed, with a purposeful look that's 100% restomod, especially with that big radiator up front, the cold air intake system tucked into the fender, and neat belts and hoses for all the accessories. A 4-speed automatic handles all the power from the fuel injected small block and churns it through a beefy driveshaft to a heavy-duty rear end, so it's punchy on the track and on the street. A fat X-pipe dual exhaust system with turn downs well before the rear axle gives it a raucous cackle and the suspension features huge tubs and has been suitably upgraded to handle all the power. Staggered 5-spoke Weld wheels look great and carry a classic skinny-and-fat combo with 26x7.50-15LT blackwalls up front and gigantic 14.0/31.0-15 fatties in the rear. Still think you can build more car for less money? Why wait? Call now and own this one today!
Vehicle Details
Location:
Lavergne, Tennessee
Seller
Streetside Classics - Nashville
Lavergne, TN 37086
(888) 409-6865
Similar vehicles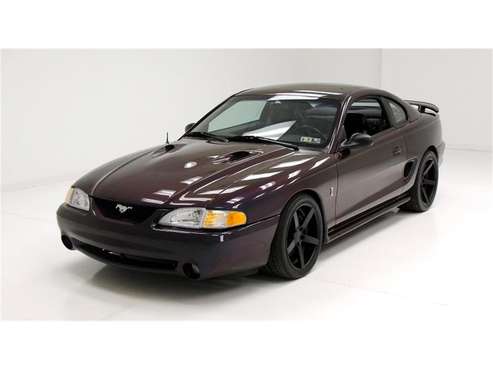 1996 Ford Mustang in Morgantown, PA
1996 Ford Mustang Cobra In 1996 Ford approved a new paint technology created by BASF to be showcased on a limited number of SVT Cobras. This paint...
1966 Ford Mustang in Long Island, NY
Located in North Carolina Shipping Available Ford Mustang, V8 289 automatic, dark blue exterior with original blue interior , will consider serious...
Recently viewed
1988 Ford Mustang in Long Island, NY
Decided to sell my 88 Mustang. Don't really have the time to enjoy it. was a southern car and solid overall. Simple mods include flowmaster cat bac...
1973 Ford Mustang in Cadillac, MI
1973 Ford Mustang Mach I current owner has ever seen. One owner with perfect documentation including window sticker, build sheet, sales paperwork, ...
1973 Ford Mustang in Shickshinny, PA
This is an original 1973 Mach 1 Mustang originally with AC/C6 Auto/351-C/273 Open Axle/Vinyl split roof/AM radio/tinted glass. It was repainted 1 t...