Used 1969 Ford Mustang for sale in Pittsburgh, PA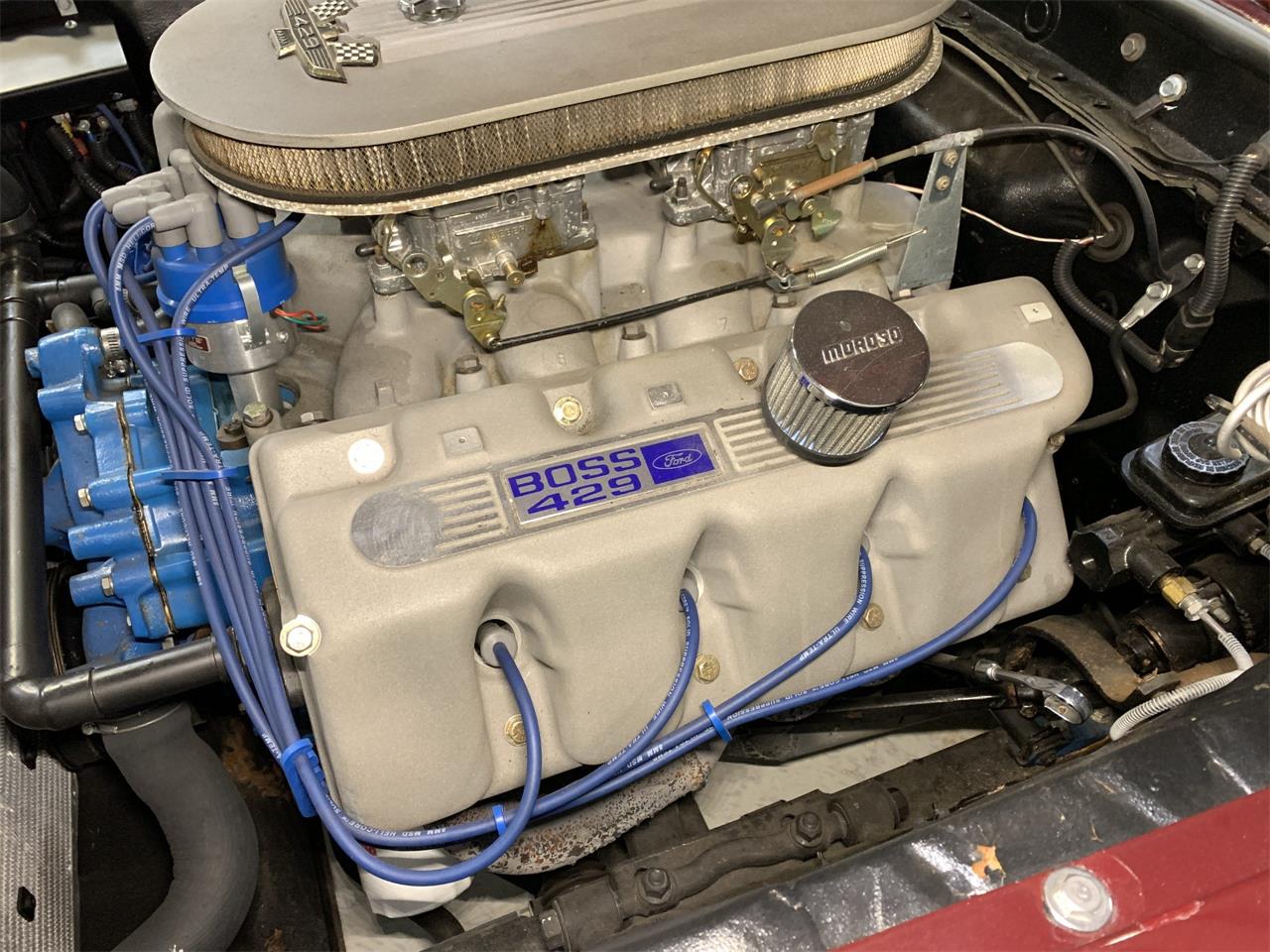 Vehicle Description
Many feel that the greatest indicator of value is the test of time. Back in the '60's one of Ford's leading dealers, a great visionary by the name of Bob Tasca, came up with the mantra "Win on Sunday, sell on Monday." He lived it too. In fact he was directly involved in the development of the Cobra Jet engine and fielded a number of famous drag cars. Ford Motor Company believed it as well, expending great effort to win races at the drag strip, LeMans, Indy, and in NASCAR. You are likely familiar with the story of how the Boss 429 was developed in an all-out effort to duke it out with the Chrysler Hemi in stock car racing. This beautiful Royal Maroon example is from the first year of Boss 429 production, 1969, and is the 193rd one produced. It has the 4-speed manual as all Bosses did - 302 or 429 - and the 3.91 Traction-Lok rear. It also features a hood scoop larger than any on a Ford production car up to that time. These cars were specially modified by Kar Kraft in Brighton Michigan to accept the massive Boss motor. Kar Kraft was involved in previous projects with Ford, building some rather successful cars. Kar Kraft developed the first Ford GT40 MKII that won the 24 hours of Le Mans in 1966, and designed and built the GT40 MKIV that won Le Mans in '67. This one is packing some hardware indicative of the serious performance intentions of the car. On top of the Boss 9 engine are twin Weber carbs. A Mallory distributor helps keep it in tune. Open the doors and there's something of a surprise. Rather than seat belts, this car has full race RJS safety harnesses with sfi tags and all. The gauges are in their rightful locations, but are precise Haneline units. Weld-in subframe connectors and a 4-point roll bar keep things stable when the power is applied, and the suspension has been strengthened with a panhard bar and traction bars. Boss 429 engines also formed the basis for Bob Glidden's Pro Stock championships in the '80's. Few cars in the world can match the racing pedigree of a Ford Mustang Boss 429, and it has certainly stood the test of time. It was produced during the pinnacle of the muscle car wars. Decades later, the Tasca family is still selling Fords in droves, the Mustang is still one of the hottest performance cars in the world, and the Boss 429 Mustang has assumed its rightful position among the world's most desirable collector cars. This one is documented with a Marti report plus two shipping invoices. * Boss 429 Engine Built and Balanced by Ross Racing and Restoration Factory 1969 Boss 429 block with standard bore Eagle 521 Stroker Crank Eagle H beam Rods Factory 1969 Boss 429 Heads Custom JE Pistons with Mahle Rings Comp Cams 586 lift Hydraulic Cam and Lifters Blue Thunder Dual Quad Aluminum Intake Dual 750 CFM Carbs Mallory Distributor with Mallory Hi-Fire System 7-quart Rear Sump Oil Pan High Volume Oil Pump Custom Headers by Ross Racing and Restoration High Volume Water Pump Northern Aluminum Cross-flow Radiator March Reduction Pulleys with Serpentine Belt
Vehicle Details
Location:
Pittsburgh, Pennsylvania
Seller
MAXmotive
Pittsburgh, PA 15238
(855) 570-8193
Similar vehicles
1968 Ford Mustang in Cadillac, MI
1968 Ford Mustang Convertible. This is a California car J-Code 302 4v original engine edelbrock cams, manifold and carb 1405 600cfm Freddy brown C4...
1973 Ford Mustang in Mooresville, NC
Are you searching for that perfect summertime cruiser, but don't want to fork out $30,000 for a car that is going to be enjoyed and driven? Then th...
Recently viewed
1971 Ford Mustang in Greene, IA
Just in on trade is this Really clean and sharp 1971 Ford Mustang Mach 1 powered by its 351 Cleveland V8 4bb Engine and backed up by its automatic ...
2001 Ford Mustang in Plymouth, MI
2001 Ford Mustang Bullitt VIN: 1FAFP42X21F230229 Check out this gorgeous 2001 Ford Mustang Bullitt! This is a true time capsule, investment grade...