Used 1972 Unspecified Race Car for sale in Stratford, CT
Vehicle Description
A sensational historic racing car....really (from a decade of experience) the best bang for the buck. A Mallock? One of the longest continuous production marques of racing cars in the world. Since 1959 and still in business. Remarkably, virtually every part is available and the works states a two week wait for any body panel. Best described as a Lotus Suoer 7 on steroids. Tubular space frame chassis of advanced design, 1700cc Cosworth, dry sump, steel rods, forged pistons, gas flowed head, dry sump, balanced, race cam, twin 45 DCOE Webers, Ford 2000E close ratio trans, DeDion rear suspension, four wheel disc brakes, 9" front and 11" rear wheels with Avon racing rubber, fuel cell, fire system, a sophisticated, lightweight very very fast racer. How fast? Last year, at the inaugural Legends event at Circuit Tremblant, my own less sophisticated Mallock Mk XIB (with a solid back axle) ran with the Cam Am cars.....mid engined, 450+hp V8s, in their day the worlds fastest sports cars....and finished 2nd in the qualifying race and 3rd in the feature race, a second behind a Lola T70 Spyder and not that far behind the winning McLaren. Never lapped in a long 17 lap race. And I have raced against this particular Mallock (the one for sale) and found it to be roughly equal in performance to my one car) THAT is performance. Add reliability, simplicity of service, and low cost of operation, what can compare? Our car's engine was just completely overhauled, car set up, very good alloy body, recently painted wings and nose, and finished extensive improvements: revised and improved roll bar struts, alloy covering, all new dashboard with revised gauges, lights, and switches, a brand new set of Avon intermediate racing tires (tires, shipping, mounting and balaicng....over $1,500), missing nothing, ready to race VERY competitively. A rare opportunity to purchase one of the country's best historic race cars at a bargain price. And trades are certainly...considered.
Vehicle Details
Location:
Stratford, Connecticut
Interior Color:
Unspecified
Seller
The New England Classic Car Co.
Stratford, CT 06615
(888) 458-1711
Similar vehicles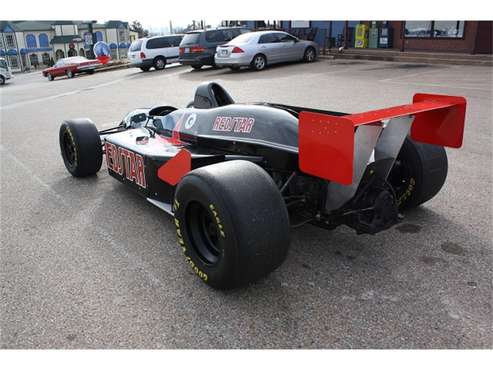 2000 Unspecified Race Car in Branson, MO
.Use in the 2000 Charlies Angels movie.This is 1 of 4 produced for the movie and had extensive on-screen use. The cars were built at a huge cost and have Chevrolet ZZ-4 350ci V-8 engines by Tri-C Engineering and an automatic transmission. This inc...
1965 Unspecified Race Car in St. Charles, MO
This 1965 Backdraft Cobra For Sale has a 406c.i. Small Block Ford V8 w/ Aluminum Heads, Polished Down Draft Weber Carburetors, 5 Speed Manual Transmission, Independent Disc Brake Rear End, 4 Wheel Power Disc Brakes, Stainless Headers and Side Pipe...
1965 Unspecified Race Car in St. Charles, MO
This 1965 Backdraft Cobra Roadster for sale has a Roush Racing 427R V8 w/ 4bbl Carb (554hp/513 Lb-Ft), 5 Speed Tremec TKO600 Transmission, Independent Rear w/ Limited Slip Differential, Lamborghini Grigio Telestro Exterior w/ Black Stripes, Accent...
Recently viewed
1965 Unspecified Race Car in St. Charles, MO
This 1965 Backdraft Cobra Roadster for sale has a 351c.i. Windsor V8 w/ 4bbl Carb, 5 Speed Manual Transmission, BMW Based Independent Rear Suspension, Only 10,059 Original Miles, Single Chrome Roll Bar, Tinted Visors, Wind Wings, Chrome Bumperette...
1965 Unspecified Race Car in St. Charles, MO
This 1965 Backdraft Cobra for sale has a 351c.i. Windsor Crate Motor, 5 Speed Tremec Transmission, Only 7,780 Original Miles, Backdraft Cobra Kit Titled As A 2004 ASV 2 Door, Silver Stripes, Single Chrome Roll Bar, Front and Rear Chrome Quick Jack...
1938 Unspecified Recreational Vehicle in Ft Worth, TX
The Chevrolet Business Coupes of the '30s epitomized vintage cool and for decades now, the model has served as an inspiring foundation for many streetrod projects. Featuring a nicely configured exterior decked out in a vibrant color, with modern V...
1998 GEHL 4625sx Diesel 43 hp in Arena, WI
1998 *** GEHL 4625sx Diesel 43 hp *** Ready To Upgrade Your Ride Today? We Make It Fast & Easy! Call (or text) ☏ 6086307494 6530 HWY 14, Arena, WI 53503 Copy & Paste the URL below to view more information! Year :...