Used 1979 Triumph Spitfire for sale in Rye, NH
Vehicle Description
A fun Spitfire that starts and runs well. a project car that needs some attention. CD sound system behind seats. Call for more info. History of the 1962-1980 Triumph Spitfire Triumph was caught flat-footed by rival BMC's introduction of the Austin-Healey Sprite and the MG Midget. Needing a low-priced sports car of its own to compete, Triumph turned to the rather lackluster small Herald sedan as potential small sports car underpinnings. Giovanni Michelotti, Triumph's favorite Italian designer came up with a design for the Herald chassis that unlike the Sprite and Midget, was truly beautiful. Named after the famed Battle of Britain fighter plane, the early Spitfire's beauty was, however, largely skin deep. Even with twin SU carbs, the Herald's tiny 1.1 liter engine made little power and the swing axle rear suspension made for potentially hazardous handling near the limit. More power came with the Mk II and these early cars are quite desirable if the driver respects the limitations of the rear suspension design. U.S. pollution and safety regulations began to hit the Spitfire after 1967 with the Mk III heralding revised (and less attractive bumpers) and less horsepower in spite of a displacement increase to nearly 1.3 liters. In 1970, Michelotti once again turned his attention to the car, cleaning up the front and rear and engineers finally resolved the treacherous swing axles. This variant was dubbed the Mk IV. The final variant arrived in 1973 with the insertion of the 1500cc unit from the MG Midget appropriately named the Spitfire 1500. It remained unchanged until 1979 when it gained large, rubber bumpers before bowing out entirely in 1980. All Spitfires are attractive, inexpensive to maintain, easy to find parts for and offer a great deal of fun for the money. Their high production numbers also mean that examples are relatively simple to locate. <From Hagerty.com>
Vehicle Details
Location:
Rye, New Hampshire
Restoration History:
Unrestored
Engine Condition:
Running
Drive Train:
Rear-wheel drive
Seller
Brit Bits
Rye, NH 03870
(888) 865-0271
Similar vehicles
1974 Triumph Spitfire in Cadillac, MI
1974 Triumph Spitfire 1500 Convertible Nice condition! -Vehicle is on consignment and at our clients home -Please Call First and talk to a rep at 231-468-2809 EXT 1 -Showroom is by appointment only Please Call -If you would like a FREE Listing ple...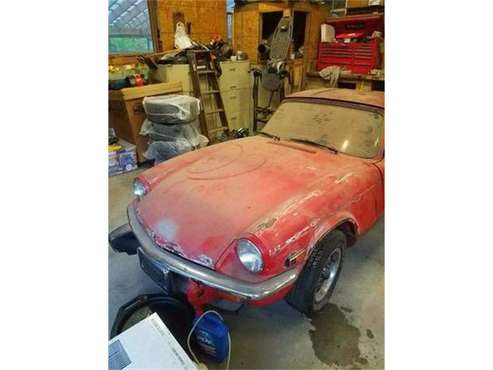 1976 Triumph Spitfire in Cadillac, MI
1976 Triumph Spitfire Convertible with lots of extras. Comes with Hard top and a new soft top. Brand new interior. New seats and carpet. New dash. New battery and much more. Needs to be finished but runs great. -Vehicle is on consignment and at ou...
1979 Triumph Spitfire - Project in Auburn, WA
Bought this 1979 Triumph Spitfire a few months back but now I have to move due to work. It's a great car if you're looking for an easy project or a way to make some quick money because parts are so cheap and easy to get. It's a 4 cylinde...
Recently viewed
1970 Triumph Spitfire in St Louis, MO
This classic British roadster has a lot going for it. The work of famed Italian designer Giovanni Michelotti, it was then and now one of the more attractive small convertibles of its era. The car is a great driver that has very nice paint, new whe...
1980 Triumph Spitfire in Cadillac, MI
1980 Triumph Spitfire Convertible Hard top is removable 1495cc, 4 speed manual, rack and pinion steering four wheel independent suspension new alternator, thermostat, tune up, gas tank, fuel pump, sending unit drivable, TLC of course is needed. Cu...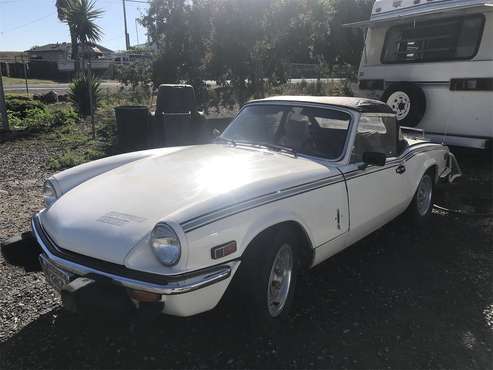 1977 Triumph Spitfire in bethel, CA
THIS IS A 1977 TRIUMPH SPITFIRE 1500 SMOGGED EXCELLENT CONDITION RUNS GOOD CLEAN 99% RUST FREE CALIFORNIA CAR HAS HARD AND SOFT TOP RUNS AND DRIVES GOME THRU SOLD BY DEALER POMPEI MOTORS $5599 925-303-6564
1974 Triumph Spitfire in Morgantown, PA
1974 Triumph Spitfire The Triumph Spitfire was originally devised by Standard-Triumph to compete in the small sports car market that had opened up with the introduction of the Austin-Healey Sprite. The Sprite had used the basic drive train of the...