Used 1982 Fiat Spider for sale in Lavergne, TN
Vehicle Description
Debuting in 1966, the Fiat 124 Spider was an affordable way to get stunning Pininfarina coachwork at a very affordable price. Based on rugged Fiat mechanicals, the diminutive 2+2 endured for nearly two decades virtually unchanged. Towards the end, cars like this 1982 Spider were a last-ditch effort to keep the brand viable in the US, and with the new model Fiats growing in popularity, these little classics are suddenly becoming highly collectable pieces of Italian carrozzeria. Wearing a repainted coat of bright red paint, this little Italian still draws stares and compliments, and the old stigma of the Fiat brand is long gone, especially with the cute 500 now on sale in US showrooms. Today, most folks see a wonderful vintage roadster in the purest Italian style, and the Pininfarina design looks far more expensive than it actually is. Most importantly, this car has never been rusty, which is the death knell for many hand-built roadsters of the era, and it appears that this one has always been a treasured collectable based on the low miles alone. As a result, it fits together as well as it did years ago, the doors close with a precise-sounding 'thunk,' and it has an all-of-a-piece feeling that's present only in nicely preserved original cars. With the 2000 Spider, you also get the exclusive Pininfarina badges on the lower quarter panels, and while the bumpers were redesigned in the '70s to comply with US crash standards, the result is far more successful than, say, the MGB's rubber schnoz. Slide behind the wheel and you're back in the '60s someplace in Europe that's warm and has an oceanfront beach. The interior is original and in remarkably good order, tan seat covers included, again suggesting that this car has always been special to someone. That dash is real wood, not some fake veneer, and Veglia instruments show crisp markings and an elegant simplicity that was a hallmark of the Italians. The original radio has been replaced by a newer Alpine AM/FM/CD stereo head unit mounted low in the factory dash slot. Two occasional seats in back provide room for packages or maybe one or two passengers for very short trips, and there's a matching tan convertible top that's stows in seconds. There's even a usable trunk that belies the car's size and suggests that the Italians knew how to travel. The 2.0-liter fuel-injected motor is this car's factory original equipment. The dual overhead camshaft makes it one of those wonderful motors on which the Italians have built their passionate reputation. It has a low-end power surge that just begs to be revved, and you're rewarded for your aggression by a sweet exhaust note. Of course, the best part is the motor that has a relatively low 86,215 miles on the odometer. But, it wasn't just the engine that made these Fiat Spiders great. These are tight handling cars with well-balanced suspensions that love windy roads. They even kept up with some of the most modern features by coming with a five-speed manual transmission and four-wheel disc brakes. There's nothing exotic underneath, and it is quite solid, which is always nice to see in an Italian convertible. And to finish the look, handsome alloy wheels are wrapped in 185/60/14 low-profile radials. A fun alternative to a British roadster, documented with its original window sticker and owner's manual, this 1982 Fiat Spider 2000 is a sure-fire future collectable. Call today!
Vehicle Details
Location:
Lavergne, Tennessee
Seller
Streetside Classics - Nashville
Lavergne, TN 37086
(888) 409-6865
Similar vehicles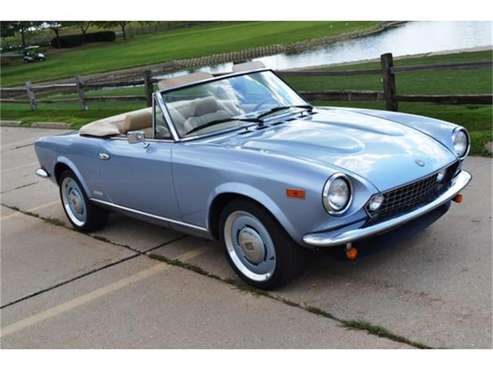 1983 Fiat Spider in Barrington, IL
BE ONE OF THE FIRST TO OWN ONE OF THESE STUNNING, LIMITED PRODUCTION MODELS. EACH S2 COMES COMPLETE WITH ADVANCED RACK AND PINION STEERING, ENGINE...
1983 Fiat Spider in Concord, NC
STK 2587 1983 Fiat Spider 2000 This classic Fiat Spyder 2000 will put a smile on your face. In many ways, this 1983 model embodies everything Fiat...
1981 Fiat Spider in Barrington, IL
Overview Roadster Salon is the largest restorer of Italian vintage convertibles in the US. While our focus is restoration and re-engineering spide...
Recently viewed
1983 Fiat Spider in Hickory, NC
This 1983 Fiat Spider 2000 is presented in Signal Red with tan interior. The engine is a 1995cc L4 with 8.1:1 compression with Bosch fuel-injection...
1982 Fiat Spider in Milford, OH
1982 FIAT 2000 SPIDER, FUEL INJECTED, RUST FREE, WELL SERVICED, SAME SOUTHERN OWNER FOR MANY YEARS, RUNS AND DRIVES PROPERLY, NEW TOP THIS SUMMER, ...