Used 1983 Toyota Land Cruiser FJ40 for sale in Peoria, AZ
Vehicle Description
1983 Toyota Land Cruiser FJ40 Land Cruiser experts have dubbed the 83 FJ40 the "Holy Grail" of FJ40's Only 78K original Miles with 2 previous owners This FJ40 is one of the three hundred Toyota built for the USA in 1983, the final year the FJ40 was available in the US. Of those 300, about 50 had factory power steering and air conditioning. This one has factory power steering and AC This FJ40 is stock, original condition. Any of the small modifications can be reversed. (See vehicle history below) Original factory paint with very small areas that have been repaired (See vehicle history below) You will never ever find an original FJ40 like this. You'll find a restored one but not an original. Price: $95,000 Please read the vehicle history below. It should answer most questions. Call Paul at Call Paul @ 6O2- four six nine - 258 eight (No Text Please) Vehicle History Purchased from Paul Morris in Tucson, AZ December, 1995 Paul Morris purchased this from the original woman owner in 1989 The original woman owner purchased it from the local Toyota dealer in Tucson She had a slight accident in a parking lot and the left front fender was replaced Paul Morris was a master mechanic for a local Ford dealer and a FJ40 lover and did most of the aftermarket work himself Rancho springs and shocks, Confer shackles, tail light protectors, Jeri Can Spare Tire holder (powder coated matching white), Confer Expedition Full Rack (powder coated matching white) with Marine plywood floor, front Warn Winch, and front grill guard. I believe I still have the OEM springs and shocks. The winch remote plug in, is mounted under the hood behind the left head light. The winch has never been used and no wiring or cables show it was expertly routed inside the frame. The High Lift Jack is mounted in front of the winch on lockable brackets. The factory radio which I do not have was replaced by the top of the line Alpine pull out radio and two speakers expertly mounted at the very rear corners. Absolutely no butchering was done to this Cruiser. The Alpine could be removed and a factory radio could be installed The top or doors have never been off this vehicle. The original headliner is still intact. The doors still have the original weather strip but is brittle, not torn. I have new OEM weather strip included. All the factory stickers are still on the vehicle including under the hood. I have the original factory brackets and straps that you use as safety devises if you go door-less. The jump seats have never been used and have all original straps and seat belts. The factory tool kit is complete and under the right jump seat. The rear floor has the original mat with the jute backing and the floor is perfect. The jute backing is....jute backing. The mat has a heat bubble to the rear of the driver's seat which is caused from the heat of the converter. The not perfect jute backing is also under the right and left floor mats, but no rust and solid floors. The interior is original and almost perfect. The driver's seat has minor wear. I have Land Cruiser covers on both seats. The dash pad is perfect. The dash is perfect and all the gauges work. The grey factory mat that covers the front is also in excellent condition. The original factory air works and has the original R12 freon. The CB Radio is screwed into the center console via 2 small holes. There is nothing buggered up anywhere. I had the windows tinted shortly after I purchased the vehicle. Still in perfect shape Included are 5 additional factory OEM wheels powder coated to the proper color. Also included are new front suspension parts, new bikini top (grey), new OEM ignition module, new OEM engine oil pan, factory center caps, and a couple dozen other parts that I can't identify at the moment. The tires on the Cruiser are new and have no miles and no signs of wear or cracking but were purchased years ago and should be replaced for safety reasons. The engine compartment is all original except for a few minor changes. It has a K&N filter, an Optima battery, silicon heater hoses and a couple of PIAA light relays. The cooling system has a 50-50 mixture of Prestone and distilled water. All the emission components and hoses are intact and will pass in any State. Do I have to say it? The engine and entire drive train is perfect. The frame and undercarriage looks as if it was restored but it was not. Just well taken care of. The rear end has a diff Locker (forgot the name, but LA Locker comes to mind). It sometimes makes the tires chirp and the rear end clunk when you turn sharply on pavement (I was told that was normal). The body and paint in my opinion are approximately 95% original. I mentioned the left fender. The right and left quarter corners just to the rear of the rear tires got slightly bent when I was trying on different size tires about 20 years ago. I took it to a body shop, they were done in three days and the bill was $200. They said they were able to blend the paint to the OEM and very little surface area was actually painted. Paul Morris had the right and left entry steps Powder coated to prevent scratching. That's it. The rest is all OEM. There are some small insignificant scratches here and there, but nothing that's worth redoing this beautiful factory finish. You may have noticed the emblems are plated in 18K gold. I have the original OEM emblems included. I have the original Owner's Manual and documents. I was never able to get the window sticker from Paul. I also think I have the complete service manual and wiring diagrams. I'm sure I'm missing something and will add to this if necessary.
Vehicle Details
Location:
Peoria, Arizona
Restoration History:
Unrestored
Exterior Condition:
Excellent
Engine Condition:
Running
Similar vehicles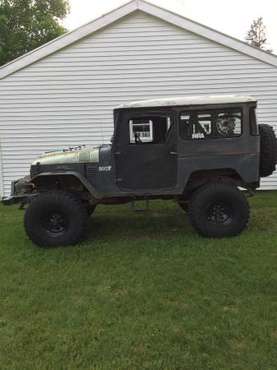 Toyota FJ40 in Bennington, VT
1979 fj40 ,2f,4 spd.PS,New cooling system,new-brakes,drums,shocks,wheels,tires~~BF Goodrich~~mud terrain~~35/12.50/15.....95% drip free......90% mechanical..Winch. Sticker good for four months. TRADES WELCOME
1967 Toyota Land Cruiser FJ40 in Denver , CO
Worldwide Vintage Autos is pleased to present this 1967 Toyota FJ40 high end build! HISTORY The Toyota Land Cruiser (J40), is a series of Land Cruisers made by Toyota from 1960 until 1984. Traditional body on frame SUVs, most 40 series Land Cruise...
1978 Toyota Land Cruiser FJ40 in Salem, OH
Toyota launched the FJ40 series utility vehicle in 1960. Official importation to the U.S. began in 1963 and within two years the FJ40 Land Cruiser was hands down the best-selling Toyota in America. Cosmetically the FJ was essentially the same truc...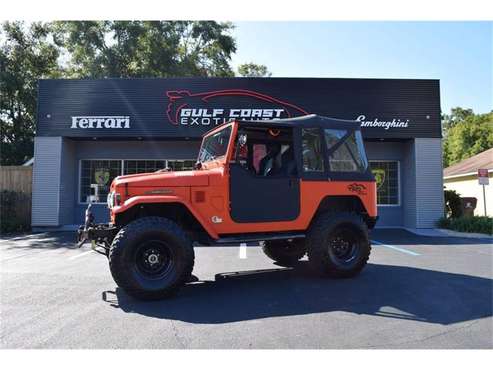 1977 Toyota Land Cruiser FJ40 in Biloxi, MS
1977 Toyota FJ40 now on consignment with Gulf Coast Exotic Auto. Fresh Frame-off build done by Hot Rod Shop in Las Vegas. This 2F 6 Cylinder Engine with a Manual 4-Speed transmission is RUST FREE! It is equipped with new brakes & front disc re...
Recently viewed
1971 Toyota Land Cruiser FJ40 in Cadillac, MI
1971 FJ40 Toyota Land Cruiser - ORIGINAL - No v8, No lift, No floor conversion shift, No disk brake conversion Original 1971, 6 cry, 3 speed on the tree, PTO winch, (new paint- mat finish), tires, brakes, tune up, seats redone. Great condition- 48...
1968 Toyota Land Cruiser FJ40 in Denver , CO
Worldwide Vintage Autos is pleased to present this 1968 Toyota FJ40. Approximately 1K miles since restoration per owner. HISTORY The Toyota Land Cruiser (Japanese: ??? ???????? Toyota Rando-kuruza) is a series of four-wheel drive vehicles produc...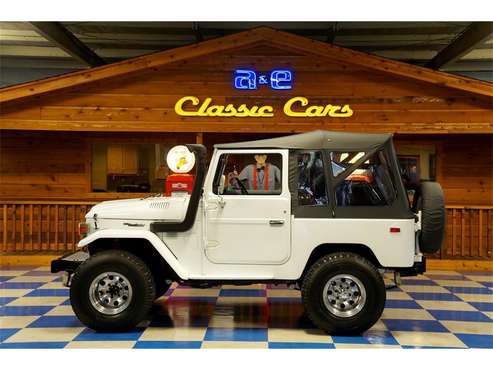 1980 Toyota Land Cruiser FJ40 in New Braunfels, TX
4.2L Inline 6 engine. 4 speed Manual transmission with 4×4. Painted White with Bestop Black Removable soft top. Bestop Black vinyl bucket seat interior with rear fold down seats. Power brakes. Power steering. Champion Aluminum radiator. HEI. Ranch...