Used 1985 Cadillac Eldorado for sale in Mesa, AZ
Vehicle Description
Cadillac fans know the significance of this car. The 1985 Eldorado Biarritz convertible was the second and final year for these short-run premium machines. That's exactly why this loaded example has been maintained to a level that makes it impressive all these years later. The short run of specialty Eldorado Biarritz convertibles is the car that ended the droptop drought at Cadillac, and we know exactly why. These are the iconic lines of the last of the great cruising Cadillacs, and so it deserves an iconic convertible. The Biarritz convertible was the most expensive car you could get from the dealer at the time - even limos cost less! - so they made sure these cars lived up to the highest standard. This has just the right amount of chrome that cascades down the waterfall grille, and then naturally flows to the front bumpers, spreads to the lower valances and pools on the rear bumper. And the extra brightwork streak in the doorline will always confirm to others this is a range-topping Biarritz. The perfect complement to this luxury is the Corinthian Blue Firemist paint. It's believed to be original, and it retains the kind of luster that tells you this convertible has been treated with respect for decades. Plus, the full pinstriping matches the white folding roof for an extra luxurious touch. This one also still has all its great original Cadillac styling cues from clear lenses in front, to the wire wheels with Caddy's crest logo. The same blue and white appeal this has with the roof up continues with the roof down thanks to the white interior. The pillow-top leather seating rivals the best living rooms for comfort. Everybody has their own individual space, and the front wheel drive layout means a flat floor for limo-worthy legroom. And higher use areas like the carpeting steering wheel, and dash are finished in blue - another thoughtful touch that keeps this classic fully coordinated. Everything you'd expect from Cadillac's flagship model comes in this convertible, including power seats, power locks, cruise control, tilt wheel, alarm system, upgraded AM/FM/cassette stereo, and a driver information center that goes well with Cadillac's "High Technology" engine. And since this has power windows and a power folding roof, you can go from enclosed luxury to a wind-in-your-hair experience without leaving the driver's seat. Also, you have automatic climate control with factory air conditioning to make sure you go with the top down all summer long. With so much originality thus far, you'll also be happy to see the original numbers-matching V8 under the hood. Cadillac's 4.1-liter motor was cutting edge for its time. It utilized lightweight aluminum construction and fuel injection to give it the kind of brisk acceleration that keeps this car worthy of its Eldorado heritage. These cars are designed for all-day comfort even on the highway, and so the motor is mated to a four-speed automatic transmission with overdrive. Thanks to a fully-independent suspension tuned for the grand tour, the feeling on the road is that incomparable Cadillac cloud. Four-wheel disc brakes were also standard equipment on the Eldorado, so it has better capabilities than you'd expect in a convertible with such a cushy ride. Complete with the original window sticker, rarely do you find a vehicle with collectability, preservation, and presentation in such an affordable package. That's why we know it won't stay long in our showroom. Call today!!!
Vehicle Details
Seller
Streetside Classics - Phoenix
Mesa, AZ 85204
(888) 600-9291
Similar vehicles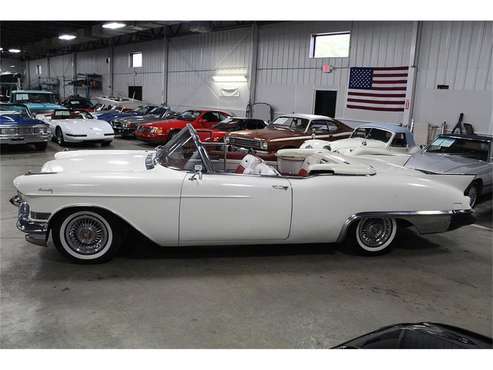 1957 Cadillac Eldorado in Kentwood, MI
1957-1960 saw the third generation of Eldorados in both the convertible and hardtops. It also saw some of the most outrageous fin designs of all time. It also featured a revised rear-end design featuring a low, downswept fenderline. And quite hone...
1954 Cadillac Eldorado in Punta Gorda, FL
1954 Cadillac Eldorado Convertible NEGOTIABLE! CALL! ... For sale in Punta Gorda, Florida is this 1954 Cadillac Eldorado Convertible. An absolutely stunning car! Freshly restored this car is in excellent condition. Excellent mechanically! Rust Fr...
1970 Cadillac Eldorado in Cadillac, MI
1970 Cadillac Eldorado white exterior with blood red leather interior. Body in very good condition without rust. Interior all original - signs of typical wear but no tears in the leather and no cracks on the dash. Many mechanical repairs / upgrade...
Recently viewed
1970 Cadillac Eldorado in Cadillac, MI
1970 Cadillac El Dorado with a 500 motor in it. This beast is front wheel drive. It has the original motor that has 13,949 mile on it. This car does not run, but I'm sure it would be easy to get running. It just has been sitting. This is a classic...
1976 Cadillac Eldorado in Phoenix, AZ
No body modifications on this Cadillac Eldorado Convertible, just has custom wheels and tires. We will supply a hood from a barrette's model to go with this car, but it will not match in color.
1980 Cadillac Eldorado in Cadillac, MI
1980 Cadillac Eldorado Pearl white with gold top and pin striping, beautiful original interior. To get her back on the road she'll need a new tranny & injector pump. But she's worth it!
1979 Cadillac Eldorado in Cadillac, MI
1979 Cadillac Eldorado Diesel all original classic,, car runs good, less than 47,000 original miles..,BRAND NEW Tires,,,,, no rust, great for cruising, road rallys, or just driving an old diesel luxury car ect, not many of these ole diesel cars left.