Used 1995 Ford Bronco for sale in South Salt Lake, UT
Vehicle Description
This Ford Bronco is an extremely clean and very well maintained vehicle. It has accumulated its miles in Idaho's rust preserving climate since new. It has always lived a clean life and is now ready for a new home. Mechanically it has received a lot of maintenance work and preventive care including; Full fluid flush with Amsoil synthetic products. Including the engine oil, transmission fluid, power steering fluid, front and rear differentials, and transfer case. All of the wheel and axle bearings have been replaced with Timken bearings. Rear gearing has been replaced with 4.10 gears providing ideal towing power. Auto hubs have been prefaced with Warn premium manual hubs. Transmission has received a new solenoid pack and the pan was replaced with a high capacity aluminum unit. An additional transmission cooler was installed as well as a spin-on inline filter. This helps keep the transmission cool during towing and makes servicing easier and more convenient helping for greater longevity. The in-tank fuel pump has been replaced and a removable panel was installed in the floor of the cab. This eliminates having to drop the fuel tank for pump replacement. Dash mounted back up camera wired in to the reverse lights. Tramsssion pan, engine oil pan and engine coolant heaters added to ensure warm fluids for cold winter starts. All wired into a single under hood point to make plugging in easy. All signal and marker lights have been converted to LED. Speedometer has been calibrated for the larger tire size. Nearly new BFGoodrich KO2 tires. 33x10.5x15 New steering gearbox, replaced axle pivot and trailing arm bushings eliminated play followed by a professional alignment. Whining Ford-style power steering pump was replaced with a Saginaw pump using Ford factory parts. This allows for quieter operation and better power. An inline caller and spin-off filter were added for improved longevity, capacity, and serviceability. Receiver hitch, trailer brake controller, 7 piston RV/Trailer plug, and rear overload springs have been installed allowing for stable towing. The engine received a full tune up plus a new distributor, new cap and rotor, high output coil, high performance plugs and wires, new oil pump and pickup, new high-capacity aluminum radiator with dual electric fans, IAC valve replaced, throttle position sensor replaced, top half intake manifold including throttle body dissembled, cleaned, and resealed with new gaskets. New heater core hoses. New battery and cables. New alternator. Remote mount oil filter to make for a cleaner, easier oil change as well as a source for new oil pressure sending unit. Pillar gauges for transmission temperature, oil pressure, coolant temperature and engine voltage for better and more accurate monitoring of parameters. New marine stereo for better performance and longevity. New speakers and wires to replace old, failing factory units. Entire interior, floors, doors, roof, box lined with sound and heat insulation and then covered with bubble wrap style insulation prior to interior reinstallation to improve thermal and sound insulation. Electric wire was pulled prior to interior installation for easy installation of 12v power in the cargo area and center console if desired. All electric locks, widows, and switches function properly. The A/C blows ice cold. Did we mention this truck has been well maintained? Now is the rare time to obtain a clean Idaho Ford Bronco that is primed to last another 3 decades. Additional photos available upon request. Call Max 208-720-8854
Vehicle Details
Seller
Luxe Automotive Sales
South Salt Lake, UT 84115
(888) 759-0146
Similar vehicles
1973 Ford Bronco in Anaheim, CA
New Build. 5.0 fuel injected motor, 4spd AOD Transmission. ORI STX Struts with 17 rims and 37 tires. 4 wheel Disc Brakes, Power Steering. Custom Bl...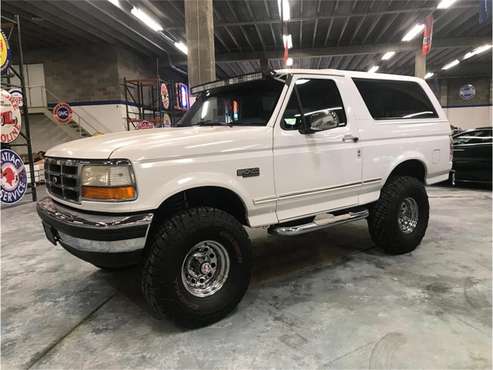 1994 Ford Bronco in Brandon, MS
1994 Ford Bronco XLT 4x4 mad famous for the OJ Simpson Chase this well equipped Bronco has a 5 speed Manual trans . 5.0 ltr V8 with Power windows P...
Recently viewed
1968 Ford Bronco in O'Fallon, IL
We invite you to take a look at this nicely restored teal/black 1968 Ford Bronco that is now for sale in our Saint Louis Missouri Showroom. Accordi...
1970 Ford Bronco in Peoria, AZ
I'm selling my Bronco. I have a 1970 ford Bronco stock 302 with a 2 barrel carburetor. 3-speed manual transmission mounted to the floor. The bronco...
1984 Ford Bronco in Husum, OR
1984 Ford Bronco NADA on this is $ 2,500 to $ 7,500. Just saw a pristine one, exact to this down to color an seats sell for $ 26,500. ...