Used 2002 Chevrolet Corvette for sale in Macedonia, OH
Vehicle Description
46,471 original miles. 100% stock. Great color combination. Options like sport seats, HUD, dual-zone climate control, CD changer, and more! Fresh run-flat tires. Runs and drives like new. A whole lot of car for the money! This brilliant red 2002 Chevrolet Corvette convertible gets everything right. It's offered in arguably the most iconic color combination of Torch Red over black leather and it's a 6-speed manual. Add in a long list of options with just 46,471 miles, and you get one of the most appealing and fun-to-drive Corvettes you can own. Torch Red is far from subtle, but there's no better choice for your low-slung sports car—even the book on the C5's development was called "All Corvettes Are Red." It's 100% original paint except for the nose (which was repainted to fix some stone chips), so the car has never been hit and was obviously owned by a guy who cared about keeping it in top condition. You'll be thrilled by how easily the doors close and how the trunk and hood snap closed with a precise feel. If you've driven older Corvettes, be prepared to be impressed by how well this one works. The black leather interior is a great place to spend your time. After mastering the awkward fall/twist that was required to get into older Corvettes, the C5 was a revelation: a Corvette you could enter with no more difficulty than a Chevy Impala sedan. This car carries the optional Sport seats and they're both power actuated, so it's incredibly easy to get comfortable behind the wheel. The leather is in exceptionally good shape for being 17 years old and in a convertible, and the seats remain firm and grippy for performance driving. Everything works, of course: the dual-zone A/C is ice cold, the heads-up display is bright and crisp, and the power windows zip up and down with enthusiasm. Other options include the aforementioned 6-speed manual (yes, a manual gearbox was optional on the Corvette!), fog lamps, and a great-sounding AM/FM/cassette/CD changer stereo with Bose speakers. The black canvas convertible top is original and in great shape, too, and stows easily in a matter of seconds once you master the technique. And with a C5 convertible, you also get a good-sized trunk with extra storage cubbies for little stuff. The mighty LS1 V8 really shouldn't need an introduction. This is not your average Chevy small block; it was all-new from the ground up when it was introduced in 1997. The block and heads are aluminum, it has 6-bolt cross-bolted main bearings, a composite intake manifold, fly-by-wire throttle, and factory stainless steel exhaust headers. In 2002, it cranked out an even 350 horsepower that's enough to make the 3300-pound Corvette feel like a rocket sled, even in today's age of 500 horsepower cars. Even more remarkable is how tractable it is: it fires instantly and idles perfectly every time, it never gets fussy in traffic, and in 6th gear on the highway, it can pull down 28 MPG. Fortunately, this one remains entirely stock, from the air cleaner to the exhaust manifolds, which means that it not only runs like it should but also that it hasn't been abused, raced, or otherwise tweaked by guys who don't quite know what they're doing. Proper service and care ensures that this car still works like it should. The 6-speed manual transmission is a very desirable option and you've probably that there aren't many 6-speed convertibles laying around, and certainly not many this pretty. The aft-mounted transmission is bolted directly to the differential, which houses 3.42 gears on a limited slip, and if my experiences racing these cars were any indication, you will never, ever break the driveline in this car, no matter how hard you hammer it. A glance underneath reveals that this car has never seen winter weather and probably hasn't even seen rain more than a handful of times—check out the bright, clean aluminum suspension components. Massive 13-inch disc brakes with standard ABS were part of the package and you will note that almost all the factory markings and decals are still in place on the various components of the undercarriage. This is one clean C5! The five-spoke wheels were forged, not cast, so they're tough and unmarked, and today they carry fresh Goodyear run-flat radials, as original. If you can't tell by now, we're smitten with this car. It's beautiful, fast, comfortable, and efficient if you can manage to keep your foot out of it. There's massive club support and I would argue that there are very few cars at this price that can match the C5's long list of virtues. If you've been looking for an affordable convertible to enjoy this summer, you can scarcely do better than this immaculately-maintained Corvette. Call today! For more details and photos, please visit www.HarwoodMotors.com
Vehicle Details
Location:
Macedonia, Ohio
Exterior Color:
Torch Red
Interior Color:
Black leather
Trim Level:
Convertible 6-Speed
Restoration History:
Unrestored
Exterior Condition:
Excellent
Engine Condition:
Running
Drive Train:
Rear-wheel drive
Seller
Harwood Motors, LTD.
Macedonia, OH 44087
(440) 565-5335
Similar vehicles
1963 Chevrolet Corvette in Venice, FL
Rare Split Window Coupe! - Numbers Matching 327C.I. V8 - 4-Speed Manual Transmission - Power Steering - Power Brakes - Recent Restoration - Silver ...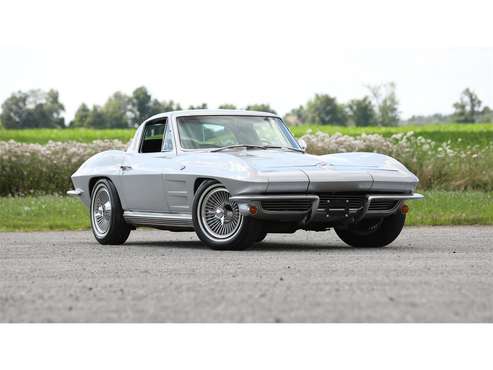 1964 Chevrolet Corvette in Auburn, IN
Chassis No. 40837S105901 Highly original with factory air-conditioning A two-owner Arizona car with 69,000 miles from new 327/300 HP Desirable Tur...
Recently viewed