Used 2006 Ferrari F430 for sale in Ft Worth, TX
Vehicle Description
It's what many consider to be the quintessential Italian sports car and for good reason. Ferrari has been known for automotive engineering excellence for decades, producing some of the most inspired rides to ever hit the street. This Ferrari F430 is a great example - it's a world class head turner that's in super sharp condition and packs outstanding power under its hood. Unusually lightly travelled over the past decade plus and in top notch condition, it represents the opportunity to own one of the world's most coveted performance cars. Ferrari has always occupied a singular niche among the exotic car manufacturers, combining cutting edge, almost futuristic styling sensibilities with a great sense of refinement. With its Grigio Silvertone exterior still in top notch condition, this F430 has a magnetism that few other cars could even approach, and it's as clean as can be. Take as long and close a look as you'd like - which in this case is likely to be VERY long and VERY close, and you won't find anything to detract from this iconic sports car's celestial curb appeal. It's one of Ferrari's most memorable models, but in reality it was only around for about five years, taking over from the well-respected 360 just a couple of years before this '06 first saw life. While it shares the same approximate chassis with its predecessor, the F430 offered even more extreme road hugging ability, due to the increased downdraft its revised exterior employs to hold the car to the pavement. With only about 15,000 miles under its belt, everything within exterior view presents exceptionally well, down to the pair of Scuderia Ferrari emblems on the front fenders. The Bordeaux red leather interior would be a show-stopper in virtually any condition but owing to the light driver and passenger traffic it's seen, it looks particularly impressive while reflecting Ferrari's unique melding of function and style. The optional power Daytona seats are heavily bolstered for support during spirited driving while carrying plenty of padding to provide comfort during everyday driving and they're looking as fresh as you could want, bracketed by door panels to each side, and a center console between them that reflect the same condition. The dash area, also in great form, is a conversation piece unto itself. Known as the optional Carbon Fiber Driving Zone with its carbon fiber inserts and dramatic but ergonomically well-laid out controls and gauges. are just awesome. The air conditioning system is prepared to cool down the cockpit with enthusiasm through no less than five vents in the dash, while an AM/FM/CD stereo is on standby to handle your audio needs. While the F430 is all about world class performance and aesthetics, the storage area up front is surprisingly roomy. Raise the rear hatch and you'll be transfixed by the sight of the 4.3 liter engine sitting inside. While its outstanding output - nearly 500 horsepower, enough to propel the F430 from 0-60 in well under four seconds - is its main calling card, its presentation in this setting has to be seen to be appreciated. The engine compartment is in showroom condition, allowing the powerplant's silver and red components to really stand out. The F430's low-profile, road hugging stance combines with the substantial downdraft Ferrari engineered in - as well as Ferrari's revolutionary E-Diff rear end, which varies the distribution of torque to the wheels based on steering angle and lateral acceleration - to produce world-class handling. 4-wheel carbon ceramic power disc brakes that feature sizable, heat-dissipating rotors bring the car to a stop from 60mph in just 114 feet - just a little over the length of a basketball court - as this performance icon creates excitement on its 19" stock Ferrari wheels outfitted with brand new Michelin Pilot Sport 4S tires. Whether the barometer is world class performance or world class looks, this Ferrari F430 stands in very select company. Call today!
Vehicle Details
Location:
Ft Worth, Texas
Exterior Color:
Grigio Silverstone
Interior Color:
Bordeaux Red
Seller
Streetside Classics - Dallas / Fort Worth
Ft Worth, TX 76137
(888) 587-9532
Similar vehicles
2007 Ferrari F430 in Syosset, NY
Champion Motors International is proud to offer this exceptionally low mileage F430 Spider in beautiful condition throughout. Properly maintained b...
2005 Ferrari F430 in Cincinnati, OH
This my beautiful 2005 430 in pozzi blue. I am a major fan of this color combination. It my 3rd Ferrari with dark blue exterior and tan/blue Dayton...
Recently viewed
2008 Ferrari F430 in Wallingford, CT
•Limited-Production Formula 1-Inspired Model, 1 of 92 U.S. Spec Deliveries •Possibly the Lowest-Mileage Example in Existence; Less than 400 Origina...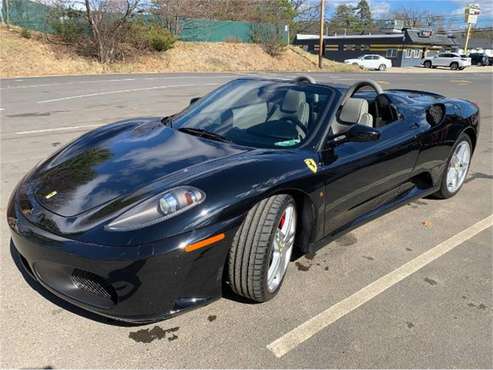 2008 Ferrari F430 in Cadillac, MI
2008 Ferrari F430 F1 Spyder. Highly optioned F1 car, with carbon fiber diffuser, carbon fiber rear bumper, carbon fiber door sills, sport carbon wh...