Used 2017 Ferrari 488 for sale in Chatsworth, CA
Vehicle Description
The Ferrari 488 GTB was introduced in 2015 to replace the previous 458 Italia. The 488 GTB was named "The Supercar of the Year 2015" by car magazine Top Gear, as well as becoming Motor Trend's 2017 "Best Driver's Car". Powered by a 3.9 Liter all-aluminum dry sump unit Turbocharged with two parallel ball-bearing twin-scroll turbochargers with air-to-air intercoolers and compressor wheels made of low-density TiAl alloy often used in jet engines to reduce inertia and resist high temperatures within the turbocharger. The engine produces 661 HP and 561 lb�ft of torque allowing a 0-60MPH sprint in a neck snapping 2.7 Seconds. The body of the 488 has been designed to increase downforce by 50% over the 458 while reducing aerodynamic drag. A new front double splitter serves two functions: increasing radiator cooling by forcing air into them and also channeling the air over the underbody vortex generators to create ground effect without adding unwanted drag. A newly designed blown rear spoiler (actually a slotted flap) integrated into the rear decklid and bumper increases downforce without requiring a raised wing. The central "Aero Pillar" deflects air under the flat body of the car while two vents in the bonnet provide an exit for air from the dual intakes of the front bumper, further reducing air pressure over the front of the car. Underbody vortex generators work to reduce air pressure beneath the car thereby increasing overall downforce. A larger rear diffuser works to increase the velocity of air exiting the underbody to further lower air pressure, in conjunction with active aerodynamic variable flaps that both reduce drag and increase downforce as controlled by a microprocessor. The increased size of the diffuser over the previous 458 requires the twin exhausts of the 488 to be positioned higher in the rear bumper for clearance. The scalloped side air intakes are a homage to those found on the 308 GTB and are divided by a central partition. Air entering the top intake is partially directed into the turbocharger compressor intake, while the rest is directed through the rear of the car and exits alongside the rear lights, increasing air pressure behind the car in order to reduce aerodynamic drag. Airflow entering the lower intake is directed towards the intercoolers in order to cool the intake charge. Even the door handles - dubbed 'shark fins' - are shaped in a way which improves airflow by cleaning and funneling air into the large intakes above the rear wheels. The Ferrari 488 was designed by Flavio Manzoni and won the Red Dot "Best of the Best" awards for Product Design in 2016. The 488 Spider variant boasts a folding hardtop, just like its predecessor and is only 110LBS heavier than its coupe sibling, and 22LBS lighter than the 458 Spider. The 0-100 km/h (0-62 mph) sprint is unchanged. This Black on Black Stallion has 1,372 miles registered and is absolutely pristine. Complete with all of its Factory Accessories including window sticker, car cover, battery tender, books and tools and two sets of keys. Beautifully complimented with Carbon Fiber, this 488 Spider is a head-turner that will not disappoint. Factory Warranty and Maintenance included. Additional options include: - AFS System - Yellow Brake Calipers - Carbon Fiber Rear Air Ducts - Carbon Fiber Side Air Splitter - Outer Carbon Fiber B-Post Trim - Carbon Fiber Driver Zone and LED's - Carbon Fiber Central Bridge - Carbon Fiber Dashboard Inserts - Daytona Style Seats - Suspension Lifter - Horse Stitched on Headrest - Sport Exhaust Pipes - "Scuderia Ferrari" Shields - Parking Camera Great lease rates and Financing also available on any of our inventory! Buy Sell Trade Consignments Welcome! Please email concierge@fusionluxurymotors.com or call 1-818-773-8181
Vehicle Details
Location:
Chatsworth, California
Seller
Fusion Luxury Motors
Chatsworth, CA 91311
(818) 773-8181
Similar vehicles
2016 Ferrari 488 in Morgantown, PA
2016 Ferrari 488 Coupe GTB The 488 GTB name marks a return to the classic Ferrari model designation with the 488 in its moniker indicating the eng...
2017 Ferrari 488 in Solon, OH
Standard Equipment Twin Turbo 3.9L Mid-Mounted V-8 Engine, 661 HP @ 8000RPM 7-Speed F1 Dual Clutch Transmission Aluminum Body Shell and Chassis...
Recently viewed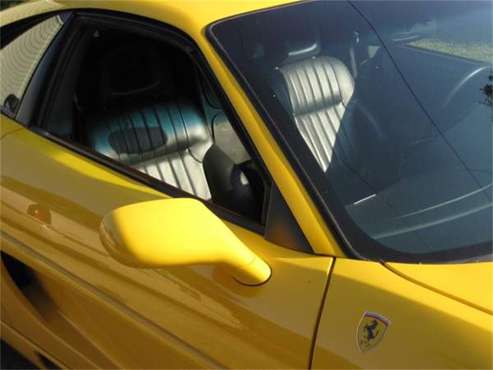 1999 Ferrari 355 in Cadillac, MI
You can measure this car and find that all dimensions are correct: 4 1/2' front ground clearance, 13.9 ft in length, and 47' in height. One car sho...